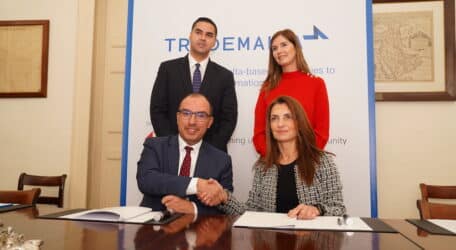 HSBC Bank Malta plc has reaffirmed its commitment to supporting Maltese businesses' expansion into international markets through a new three-year agreement with TradeMalta, a public-private partnership between the Government of Malta and the Malta Chamber that supports the internationalisation of Maltese businesses.
The agreement was signed by Ms Joyce Grech, HSBC Malta's Head of Commercial Banking, and Mr Anton Buttigieg, TradeMalta's Chief Executive Officer on 29th November at the Malta Chamber of Commerce. The signing was held in the presence of the Minister for Foreign and European Affairs and Trade Dr Ian Borg.
This renewed commitment by HSBC builds on its long-standing support for TradeMalta, which has seen the bank set up an HSBC Room to serve as a meeting space at TradeMalta's Sliema offices. HSBC Malta has also sponsored two editions of the Malta International Business Awards, along with a number of other initiatives.

Speaking at the signing, Joyce Grech said: "TradeMalta plays a vital role in helping Maltese businesses internationalise, by providing expert advice, training and support. HSBC Malta has always backed TradeMalta in its endeavours and believes that this support has been invaluable in helping local companies succeed on the world stage, especially during the Covid-19 pandemic. Our ongoing support will continue to allow Trade Malta to support Maltese businesses' international growth as we come out of the pandemic and face a host of new and unprecedented economic challenges ''

Anton Buttigieg said: "As the world economy continues to adjust to the new realities created by the pandemic, new opportunities are also emerging. As it has always done, TradeMalta is here to support Maltese companies looking to make the most of the opportunities available, anywhere in the world. Thanks also to our partners, including HSBC Malta, we have been able to continue offering our services over the past months and are now fully geared up to provide all the advice, training and incentives that companies with international ambition need."

TradeMalta offers a range of services including specialised training programmes in international business development and marketing as well as administering a number of incentive schemes and internationalisation programmes.
More information is available at www.trademalta.org. HSBC Malta offers a range of solutions for customers wishing to internationalise their business. More details can be found on www.business.hsbc.com.mt