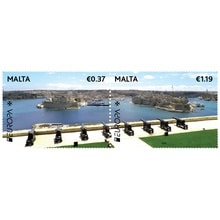 With only a couple of days to go before the announcement of the winner of the EUROPA 2012 Stamp Competition, this is your last chance to vote for the Maltese stamp at www.posteurop.org/europa2012.
The Maltese stamp depicts the stunning view of the Grand Harbour taken from the Upper Barrakka Gardens in Valletta. The panoramic picture highlights the unobstructed view of the historic Three Cities with Fort St Angelo in the centre. Since the Grand Harbour is an area of significant and geographical importance for Malta, Maltapost believes that this stamp will help foreigners appreciate Malta's unique historical landscape and encourage them to learn more.
This year's EUROPA theme "Visit….." aims to encourage public awareness of some of Europe's most picturesque areas of cultural and historic importance, as well as to highlight common European roots and objectives. The contest is an annual online event where creative entries from across Europe compete for the best design.
The set 'EUROPA 2012 – Visit Malta' was designed by Sean Cini and was issued as a pair of se-tenant stamps with values of €0.37 and €1.19. They measure 88.0mm x 31.0mm, with perforation of 13.9 x 14.0 (comb.). The stamp has been offset with the watermark of the Maltese Cross and was printed by Printex Ltd.
The winning stamp will be announced at the PostEurop Philatelic Forum in Paris on 13 June.