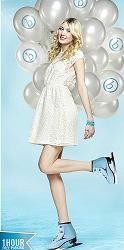 Bay Street Complex in St George's Bay, St Julian's, presents the only authentic ice-skating rink in Malta, between Saturday, 16 November, 2013 and Sunday, 2 March, 2014.
The island's most established and popular shopping, dining and entertainment complex is giving the opportunity to locals and visitors alike to enjoy ice-skating every day from 10 a.m. to 10 p.m. between Saturday, 16 November, 2013, and Sunday, 5 January, 2014, and then every weekend from Friday to Sunday from 10 January to 2 March, 2014.
The circular ice-rink will be located on Level 0 in the main arena and has a capacity to take 30 kids or 20 adults at the same time. Bay Street is offering skating sessions for only €5, including the hire of ice-skating shoes, as well as a special family ticket offer.  Schools and community organisations can arrange a private hire booking.
To ensure that customers of all ages and abilities can skate and have fun, Bay Street will have a range of aids, from toddler ice shoes to help the little ones get their balance on the skating surface, to Penguin walkers as a learning aid. For customers with reduced mobility, a special support frame will be available, as well as dedicated sessions for wheelchair users.
Throughout the three and a half months there will be many exciting programmes. A Parent and Toddler Penguin Club offers help in learning ice-skating to all ages, a Rock the Rink Ice Disco will be held on weekend evenings, as well as organised events to enable one and all to enjoy the true atmosphere of ice-skating.
"We are looking forward to hosting the only real ice-skating rink in our county," a spokesman for Bay Street said. "We expect this to be an amazing opportunity for new experiences and we are confident that this Christmas attraction will encourage lots of clients to continue to return to Bay Street during the festive season."
One hour's free parking is being offered to all those who make use of the ice-skating rink.
The real ice-rink is official sponsored by Dacia, Swarovski and Stivaletti.
For more information telephone 2138 0600 or go to the Bay Street Facebook page www.facebook.com/baystreetmalta.