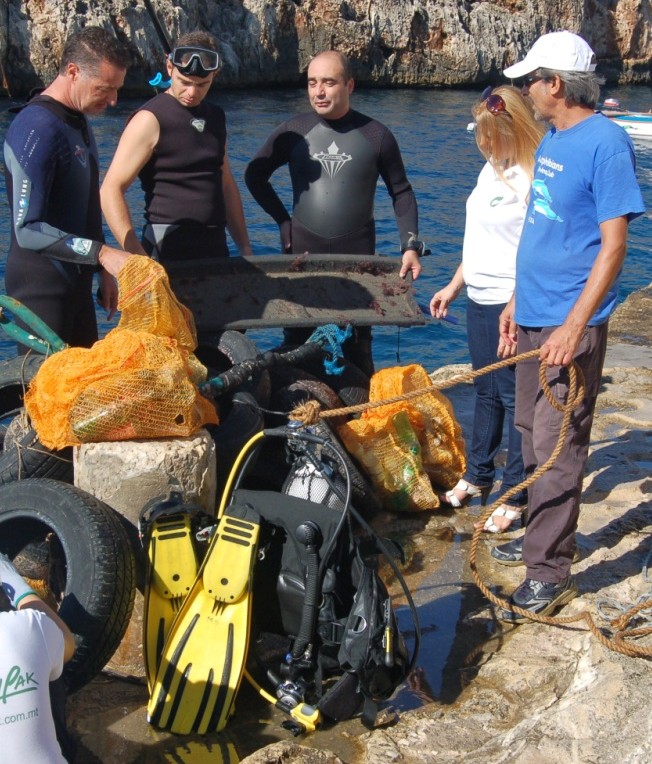 Pictured above (from left): GreenPak CEO Ing. Mario Schembri, GreenPak Senior Manager Denise Brincat, Amphibians Diving Club Secretary Mark Baluci, together with volunteer divers  
A 23-strong team of advanced certified divers and 15 onshore volunteers recovered over 1,200 kgs of recyclable waste from Wied iż-Żurrieq seabed during the annual Cleanup, organised by GreenPak and the Amphibians SCUBA Diving Club.
The divers braved the cold temperatures and extracted hundreds of harmful objects from the underwater environment, including soft-drink cans, glass bottles, plastic wrappings, fishing nets, ladders, carpets, traffic signposts, mobile phones, car accessories and numerous tyres.
Ing. Mario Schembri, CEO of GreenPak Coop Society said, "We, as an island nation are intrinsically linked to the sea, but the reality is that the seabed suffers from 'out of sight, out of mind' syndrome. It is our collective duty to protect and preserve this collective heritage from further degradation. Through this initiative GreenPak is highlighting an important message: when the public uses recycling facilities, the majority of plastics, paper, glass and other recyclable material can be prevented from being dumped in our sea."
Besides the standard safety procedures, the Cleanup team was briefed on the importance of not retrieving or disturbing any piece of debris that has significant life on it – as this will cause more harm to wildlife than good. The onshore volunteers gathered rubbish and debris from the surrounding location in an effort to recover litter before being carried down into the sea by winter storms.
The participating SCUBA divers were provided with free air tanks by Scubatech Diving Centre.