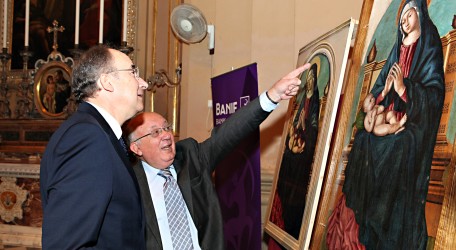 Pictured above: Joaquim F. Silva Pinto and Prof Mario Buhagiar admiring the newly restored painting
A scientific conservation exercise on one of the finest and most significant Early Renaissance paintings in Malta has been completed with the support of Banif Bank (Malta) plc. The University of Malta's Research Programme for the Study of Late Medieval and Renaissance Art (Department of History of Art, Faculty of Arts) undertook diagnostic analysis of the painting, and embarked on a conservation and restoration intervention to restore the painting to its former glory and give it back its original qualities.
The work comes from the inner circle of the great master Antonello da Messina and represents the Enthroned Madonna and Child. It is the surviving central panel of a triptych, commissioned for the old parish church of Zejtun around the first decade of the sixteenth century.
The painstakingly delicate work carried out by Recoop – The Restoration and Conservation Coop Ltd, has removed layers of over-painting and given back the work a close approximation of its original appearance. It has revealed a painting of notable artistic sophistication that richly enhances Malta's artistic heritage. The painting was first restored in 1672 by Pietro Nunez de Villavicentio who added his signature. The restoration exercise has removed his overpainting.
"As a Maltese bank that assumes its social responsibilities, Banif Bank believes in supporting initiatives that contribute to preserving Malta's rich and diverse heritage," said Joaquim F. Silva Pinto, CEO of the Bank. "It is highly satisfying to see the painting restored to its former glory.  We believe in investing in the community we operate in – a community that is increasingly showing trust and confidence in the Bank."