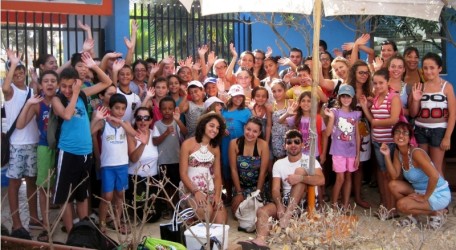 Pictured above: The Camp for Children with Diabetes 2012 included abseiling and bread baking among other educational activities
Around 40 children with diabetes discovered new ways of dealing with their condition while also enjoying various fun activities at this year's camp, organised annually by the Maltese Diabetes Association with long-term support from the HSBC Malta Foundation.
The 3-day camp, held at Porziuncola House in Baħar iċ-Ċagħaq, offered the children a fun constructive social environment in which to share and discuss their experiences with peers who confront the same health concerns.
The activities included abseiling with the assistance of professional instructors and opportunities for the children to bake their own bread and learn novel tips for a healthier diet. Other highlights included educational talks and group discussions led by officials from the Department of Health's Diabetes and Endocrine Centre.
"The camp more than meets our expectations in so far as the participants meet in a relaxed and informal atmosphere and learn, hands on, how to handle their diabetes and how to overcome their daily challenges. Most importantly, the children realise that, given certain conditions and preparation, they are able to take on any kind of challenge," said Anna Zammit McKeon, President of the Malta Diabetes Association. "The longstanding support offered by the HSBC Malta Foundation is helping children with diabetes gain invaluable experiences."
The Diabetes Association is a voluntary non-governmental organisation aimed at educating its members and the public about diabetes. It provides its young members with various support services and activities including weekend live-ins and an annual camp.
More information about the HSBC Malta Foundation's activities is available on HSBC Malta's website at www.hsbc.com.mt/hsbc-in-malta