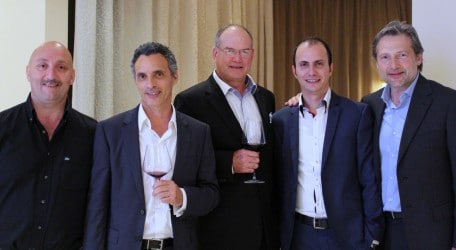 Pictured above:  François Malan (centre) with (from left) Abraham Said, Director and owner of Abraham Supplies, Pierre Pellegrini Petit, Director of Attard & Co. Foodstuffs Ltd, and Wines & Marketing Executives John Bugeja and Paul Mintoff
François Malan, Managing Director of Simonsig Wines of South Africa, and his wife Antoinette were the guests of honour last month at wine and dine event held at Essence, the fine dining restaurant at the Radisson Blu Resort, Golden Sands.
The event, hosted by Simonsig's local agents Attard & Co. Foodstuffs Ltd, consisted of a five-course meal with matching wines for which members of the Dielja Wine Club were also invited.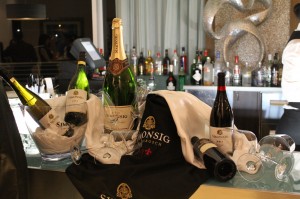 A Kaapse Vonkel Brut of 2011 was served with the Canapés. This is the first wine from South Africa to be made with the three classic grape varieties used in the Champagne region: an almost equal blend of Chardonnay and Pinot Noir, with a hint of Pinot Meunier.
This is a limpid wine with straw undertones. There are sizzling notes of white peach contrasting with red berries. On the palate there are white peach and apple, along with secondary yeast flavours. There is a fine balance between fruit and acidity with an unforgettable finish.
The amuse bouche was accompanied by the 2012 Simonsig Sunbird Sauvignon Blanc, a fruit basket of concentrated gooseberries, white fruit and hints of green pepper. This changes into layers of aromas that add complexity. The fresh yet silky acidity accentuates the fruit elements, leaving lingering notes of tropical flavours on the palate.
For starters there was Yellow Fin Tuna Pickled bottarga sand, sea lettuce, chicken cracklings, milk skin, vanilla tomatoes and flowers. This was served with a 2012 Gewürztraminer, a blend of this grape varietal (88%) with a hint of Morio Muscat grapes. With its star-bright, pale golden straw colour, this is a wine with elegant floral and litchi notes on the nose with hints of rose petals and lime.
The richness and complex layered flavours of the late harvest grapes culminate in a delicious, well balanced Gewürztraminer with an elegant freshness and silky acidity.
The next course, Chèvre Dumplings, basil purée and smoked wild mushroom tea was served with a 2010 Pinotage. This has aromas of sweet red berries and cherries, with subtle pockets of blackcurrant and smooth silky tannins.
The main course, Pan Fried Duck Breast, slow cooked duck leg, thyme and truffle risotto cake beetroot purée with whisky apple cream, was accompanied by a 2009 Tiara, the flagship Simonsig red wine, a Bordeaux blend of Cabernet Sauvignon (76%), Merlot (17%) and hints of Cabernet Franc, Petit Verdot and Malbec.
This has intense blackberry and cherry flavours with hints of a cigar box. There are secondary aromas of tobacco and pencil shavings, with subtle wood nuances on the palate. The firm yet developed tannins uphold the structure with the fine balance between the five varietals creating harmony and lasting flavours.
For dessert there was Caribi chocolate and marzipan delight, sea salt caramel tart with cassis ice cream, banana millefoglie.