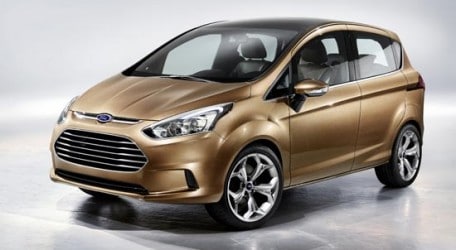 The new Ford B-MAX has been developed especially for the urban driver. While compact in size, its ingenious, easy-access door system gives you a 1.5m wide aperture to a spacious and refined interior.
Alongside its unique design, the B-MAX has a multitude of technologies to make driving easier, more enjoyable and more efficient. For example, Active City Stop* helps prevent collisions in slow-moving traffic, by automatically braking for you, if necessary. With Ford SYNC®* you can control your music and phone, with simple voice commands – SYNC® can even read out your text messages. A revolutionary 1.0 litre EcoBoost petrol engine delivers the power of a 1.6, with outstanding fuel economy.
The B Max recently  has won the "AUTOBEST 2013" award, presented by leading automotive journalists from 15 countries in central and eastern Europe. Hailed as "cool" by the jury and praised for its "incredible" 1.0-litre EcoBoost engine; its "impressive" quality; and its ingenious Easy Access Door System, the B-MAX is the first Ford vehicle to win the AUTOBEST award. B-MAX's Ford's Easy Access Door System provides unrivalled access for passengers and luggage through hinged front doors and sliding rear doors that integrate the central body pillars. Better connected than any vehicle in its class, B-MAX also features Ford's voice-activated, in-car connectivity system, SYNC, with Emergency Assistance, designed to assist the occupants to call for help in the event of a crash.
Child-Proofing' the New Ford B-MAX; Mud, Milk and Fizzy Drink Tests Ensure it is Ready for Family Life 
Every parent is familiar with the challenge of keeping a new car clean in the face of everyday use by children and pets. Ford has now tried to make that job a little easier for mums and dads by "child-proofing" the new B-MAX.
Engineers subjected the new B-MAX to laboratory tests that simulate the toughest treatment children and pets can dish out, including soaking materials in milk and fizzy drinks; testing fabrics with a "mace"; and pounding plastics with a heavy rubber ball.
"By testing for everything from soft drink spills to muddy boots, we've made sure the B-MAX interior is ready for anything." said Mark Montgomery, senior materials engineer, Ford of Europe. "I've got young children myself, so I'm very familiar with the mess they can create."
The B-MAX's Ford Easy Access Door System provides unrivalled access for families and luggage through hinged front doors and sliding rear doors that integrate the central body pillars. Samples of all leathers and fabrics used in the compact multi-activity vehicle's interior were tested for stain resistance and ease of cleaning after being soaked for 24 hours in the liquids – and being smeared with soil and grease.
Engineers also tested resistance to damage that can be caused by abrasive zips and fasteners found on children's clothing and bags. The "mace test" used a metal ball with needle-sharp spikes to brush fabrics 600 times and replicate the effect of snagging zips and studs; also engineers carried out a special test to repeatedly rub the seat material with Velcro.
Impact tests – conducted at temperatures as low as -30 C when plastic is more brittle – used a rubber ball ten times heavier than a regulation football to ensure that plastic parts could withstand bumps and knocks. Fabrics were also rubbed 60,000 times in a 17-hour non-stop wear test; metal spikes were scraped across plastic parts to test scratch resistance; and carpets were checked for durability on a special test rig fitted with rough abrasion wheels.
"These tests make sure we've done everything possible to make sure the car looks as good the thousandth time that families sit in it as it does the first time," added Montgomery.