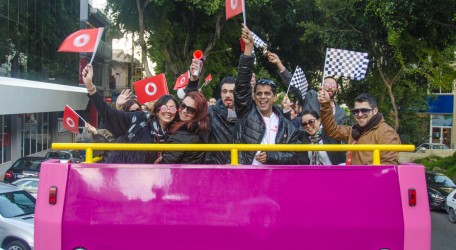 After spending 22 years at its own Vodafone Head Office in Valley Road Birkirkara, Vodafone officially moved its Head Office to SkyParks Business Centre. Vodafone employees celebrated in style as they buscaded through the busy roads linking Valley Road Birkirkara to their new Head Office at SkyParks.
"The move to 2013 marked a great change for Vodafone not only because we moved to a new Head Office but also due to the introduction of new working methods and a completely different environment," said Antoinette Camilleri, Property Manager at Vodafone Malta. "The SkyParks Business Centre offers Vodafone employees an open plan environment where they are working in a brand new corporate setting that enhances productivity, teamwork and improves organisational communication."
All employees were surprised with a farewell party to bid their last farewell to their old offices in Valley Road Birkirkara in a fun way. On their journey to the new offices, Vodafone employees also visited some of Vodafone's stores around Malta, where they extended their celebrations further with people who were present at the time.