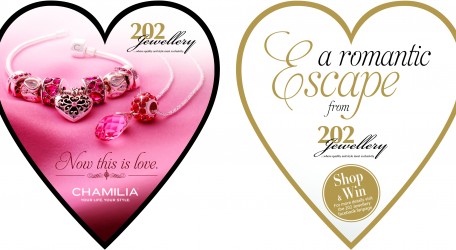 February is the month of LOVE and this is the time to spoil your loved one.
This is also the time when leading jewellery and watch brands launch their new collections and the world renowned brands that are found exclusively at 202 Jewellery:  Chamilia, Spinning Jewellery, Viventy Jewels,  Cede', Tresor Paris, Christina Watches and EDOX, are no exception
Our innovative brands and new collections are an absolute joy and their sensual beauty is as inspirational and evocative of those Sweet Feelings of New Love.
Celebrate and enjoy the beauty of our jewellery in all its grandeur and glitter and cherish it as it will always be part of today and tomorrows' special moments.
In addition, look out for 202 Jewellery's Facebook page for our exciting promotions and details to participate in our Valentine's Romantic Escape competition.