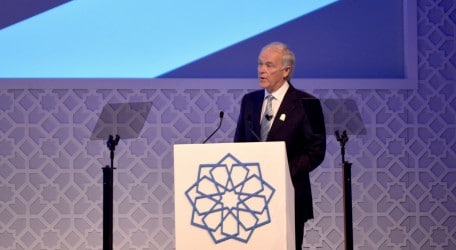 Pictured above: Tim Clark, President Emirates Airline, addressing delegates 
Emirates expects to fly 70 million passengers in 2020, and the airline together with its partners in Dubai are already progressing on plans to ensure the right infrastructure are in place to support and capitalise on this growth.
These plans were unveiled by Emirates Airline President Tim Clark yesterday at a presentation to delegates of Bureau International des Expositions (BIE), who were visiting the UAE to make their final decision on the host city for the World Expo 2020. Dubai is a candidate city.
"By 2020, we will have more than 250 aircraft serving some 70 million passengers across six continents. It will make us the largest airline on the planet by international passenger traffic," said Mr Clark.
He added: "However, being the biggest airline in the world is not really the end goal. Our aim has always been to connect travellers from around the world to Dubai, and other destinations with just a single stop via our hub. The strategic location of Dubai makes it possible for us to serve almost 90% of the world's population with non-stop flights, for example our 16-hour Dubai to Houston service on the Boeing 777-300ER, or our 14-hour Dubai to Sydney flight with the Airbus A380. Our location is a key advantage. The leaders of Dubai recognised this from the onset, and that is why Emirates is investing in the most advanced long-haul aircraft, and why Dubai has invested over the years to develop its infrastructure for international commerce and tourism."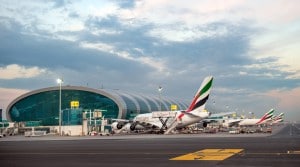 A catalyst for globalisation  
Over a third of the world's population lives within a 4-hour flight from Dubai, and two-thirds are within an 8-hour flight. Today, Emirates operates nearly 3,200 flights globally per week to 135 destinations in 76 countries. Since January 2012, it has launched new services to 20 destinations, adding air transport connections that will benefit trade and tourism to Dubai and beyond.  Before year end, it will start services to Conakry (27 October), Sialkot (5 November) and Kabul (4 December).
"Having the right equipment is important to our business model, but equally key to the mix is having the right 'software' – people and culture. With 50,000 staff from over 160 nationalities, Emirates is one of the largest multicultural organisations in the world," said Mr Clark.
Ready for the future 
Emirates is currently the largest operator of  Airbus A380s and Boeing 777s, with an order book for 53 and 64 more of each aircraft type respectively. By 2020, it will have over 250 aircraft in its all-wide body fleet.
"We plan for the long-term and these plans include working closely with our stakeholders in Dubai including DubaiAirports and the GCAA amongst others, to make sure the right infrastructure is in place to support our planned fleet and traffic growth," said Mr Clark.
Visitor and traffic growth at Dubai International airport has grown tremendously in the past decade, with international passenger numbers virtually doubling from 24.8 million in 2005 to 47.2 million in 2010. Last year, the airport handled 57 million passengers from 225 destinations, travelling in on more than 140 airlines including Emirates.
In 2020, Dubai expects to welcome over 20 million visitors and airport infrastructure has been gearing up to meet this demand. It opened Terminal 3 dedicated to Emirates' operations in 2008, and recently opened a new Concourse A for Emirates' A380 operations. Emirates is the only airline in the world today that operates an A380 dedicated terminal.
Work is also underway at Dubai International airport on a Concourse D to expand handling capability for the other airlines operating international flights, due for completion in 2015.
Al Maktoum International Airport at Dubai World Central (DWC), which started freighter operations in June 2013, will welcome its first passenger flights on 27 October.  Emirates is constructing a new home for its freighter operations at DWC with a cargo terminal and supporting infrastructure, scheduled for completion in May 2014.  By the mid-2020s, Al Maktoum International Airport will have the capacity to handle 160 million passengers and 12 million tonnes of cargo.
Emirates operates four scheduled flights weekly from Malta to Dubai via Larnaka, Cyprus, on Mondays, Wednesdays, Fridays and Saturdays. While on Sundays, Tuesdays, and Thursdays, Emirates operates direct flights from Dubai to Malta and return flights fly via Tripoli.