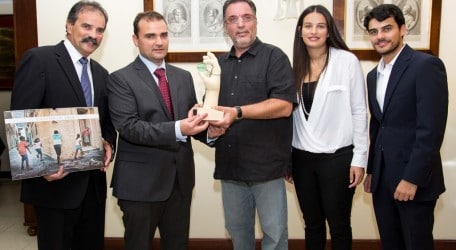 Pictured above: The Parliamentary Secretary Dr Franco Mercieca presenting the trophy to the winner Joe P. Smith. Also in picture (from left) Casa Antonia's Managing Director Edward Vella, General Manager Dr Sarah Cassar and Director Matthew Vella 
Joe P. Smith has been declared the winner of the 10th Anniversary Photography Competition which was launched earlier this year by Casa Antonia Nursing and Residential Home in Balzan. His entry, which was deemed by the panel of judges as the best example in photographically and originally capturing the competition's theme "The Elderly – positive aging", will be featured on the front cover of the upcoming Casa Antonia's 2014 Annual Calendar.
This was announced during the prize giving ceremony held at Casa Antonia. The Hon Parliamentary Secretary for Rights for Persons with Disability and Active Aging Dr Franco Mercieca presented the winner with a €1,000 prize and an original trophy, designed by Matthew Vella.  Z.I Photography, consisting of Geoffrey Cachia and Filofteia Galea Gheorgita, won the second place, while the third placing was awarded to Denise Scicluna.  The other finalists who placed from 4th to 13th place are (in alphabetical order): Ray Agius, Jonathan Borg, Anthony Rizzo, Bertram Vella, Sandra Vella, and Darrin Zammit Lupi.
The competition attracted 126 entries submitted by 40 participants including professionals, artists and photo enthusiasts. All the 13 finalist photos are featured in Casa Antonia's 2014 annual calendar.
In a short comment to mark the occasion, the Parliamentary Secretary Dr Franco Mercieca congratulated the winners and all those who participated in the competition. In reference to the competition's theme, he said that an active lifestyle in old age is associated with more fulfilling experiences.   He also noted, however, that in today's world elderly people must pass though significant changes. He explained that elderly people do not only experience physical changes, but must also face changes in their social relationships and their working lives. Dr Mercieca highlighted the importance of maintaining a positive attitude towards old age so that elderly people in this country continue to feel good and have a sense of control as they face this part of their life-cycle. The Parliamentary Secretary said that the elderly people who grow older in a positive way live longer and healthier, and benefit from a better quality of life. He concluded by encouraging more initiatives such as this one that help to promote positive aspects of old age.
Opened in 2003, Casa Antonia has established itself as one of Malta's top nursing and residential homes, offering long-term care, short-stay convalescence, and respite care. The residence is spread over a large area of tastefully decorated spaces in classic design and surrounded by lavish gardens, offering a comfortable accommodation for 130 residents, which can be enjoyed in single rooms, sharing, or apartments.