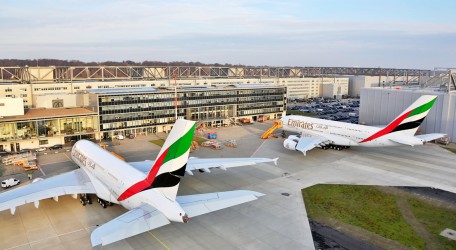 Emirates has received delivery of its 43rd and 44th A380 aircraft with a double delivery from Airbus' Finkenwerder facility in Hamburg, Germany.
"Our customers love the A380 – from the quieter cabins and spacious layout on the main deck, to the on-board lounge and shower spas in our premium cabins. It is a beautiful aircraft which we have packed full of the best inflight comforts and products. From an operator standpoint, the A380 is still one of the most fuel efficient aircraft per seat. It offers us some flexibility in range and also helps us to meet demand at slot-constrained airports," said Tim Clark, President Emirates Airline.
"Continuous improvements are being made to the A380, by the manufacturer as well as by Emirates in terms of our on-board product. For instance our latest A380s have been fitted with even bigger high definition LCD TV screens to enhance the inflight entertainment experience. We've also introduced new touch-screen tablets that allow passengers to control all their seat functions and movie selections with just one swipe. Small details, but all these add up to provide a great flying experience," he added.
The 43rd and 44th Emirates A380s offer 14 seats in First Class, 76 seats in Business Class and 427 seats in Economy Class, and will be put into service starting 21 December, initially operating on flights to Mauritius and Munich.
Click here to take a virtual tour on-board Emirates' A380 with Google Street View.