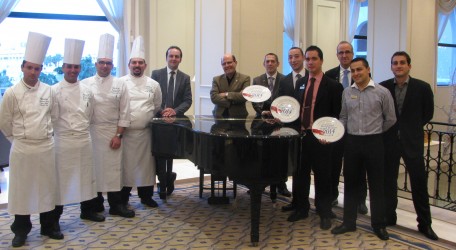 Pictured above: James Mifsud, Executive Chef,  Stephen Borg Saydon, Executive Sous Chef, Jonathan Vella, Quadro Restaurant Chef, David Calleja, Executive Pastry Chef, Jonathan Borg, Director of Operations, Michael Camilleri Kamsky, General Manager, Jason Degiorgio, Director of Food & Beverage, Thomas Muscat, Quadro Restaurant Supervisor, Charlot Xuereb, The Terrace Restaurant Manager, Martin Cauchi, Quadro Restaurant Manager, James Debono, Palio`s Restaurant Supervisor, Steve Hyzler, Palio`s Restaurant Manager 
During the Definitive(ly) Good Guide to Restaurants Awards Ceremony held earlier this month, The Westin Dragonara's restaurants namely Quadro, Palio's and Terrace Restaurant have all been awarded amongst the 150 highest rated eating establishments in Malta and Gozo out of over 1,800 restaurants on the islands.
According to the 2013 Malta and Gozo Restaurant survey which was conducted online in September this year, the 2014 Restaurants Awards were chosen from the highest rated restaurants, both overall, and in the various price categories for Malta and Gozo. The survey took into account not only the Overall rating but also individual Food, Service and Ambience ratings, the number of people rating, value for money, comments and other data from the survey.
The Westin Dragonara Resort is very proud to receive such a good feedback for its food outlets which all placed first in one of the individual ratings.
The Resort's fine dining Restaurant Quadro achieved the best results and placed third overall and second in the best in service category. Besides exquisite and innovative food, diners praised Quadro's beautiful sea views as well as its refined service which makes dining a truly unique experience.
For this occasion General Manager Michael Camilleri Kamsky said: "These awards recognize the collective efforts made by the entire team of The Westin Dragonara Resort. It is thanks to our employees, their commitment and creativity as well as our dining guests' loyalty that such results can be achieved."
More information about the Westin Dragonara Resort as well as its diverse dining options offering a great variety of atmospheres and cuisines can be found on www.westindragonaramalta.com