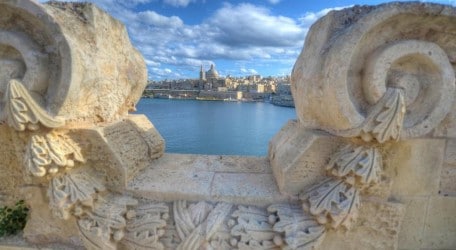 Pictured above: Manoel island (Photography by Rene Rossignaud )
As another year is closely coming to an end, GasanMamo is once again looking forward to 2014 with determination to improve their offerings and deliver the sterling service which has become so synonymous with the company. The yearly GasanMamo Insurance calendar, much awaited by staff and clients alike will be once again be an innovation to the Maltese Islands. This year's fascinating calendar provides a twist and has a scannable QR code. Users can  scan the images with their smartphones to fully immerse themselves in moving imagery using the GoPro technology, showcasing the new and less-explored views of the Maltese Islands.
"Year on year, we invest in our people, keep ourselves up to date on industry trends and seek new and less explored areas of business in order to provide enhanced added value to our clients," said Mark Mamo, General Manager at GasanMamo. "The 2014 calendar is no exception. The calendar is a novelty for Malta and makes use of latest technology to interact users with the beautiful still images."
On scanning the image, the application immediately decodes the information found within the image, locates the respective video online and brings it up to the user, transforming the calendar into a virtual experience. The scannable calendar was developed by MPS Marketing Communications. "Capturing the new and less explored views of our islands, such as the new Breakwater Bridge in the port of Valletta, the passenger lift at Barrakka and the Blue Grotto in Wied iz-Zurrieq with a GoPro is what makes this calendar so special," said Alan Paris, Creative Director at MPS.
"Using the GoPro camera further enhanced the quality of the videos, offering stunning ultra high-resolution cinema quality capture. The GoPro also gives us the opportunity to get into those akward and far spots of the beautiful Maltese Islands, even underwater. So next time you come across a GasanMamo calendar, bring out your smartphone, scan one of the images and get ready to explore, discover and be inspired by the beauty of the Maltese Islands."