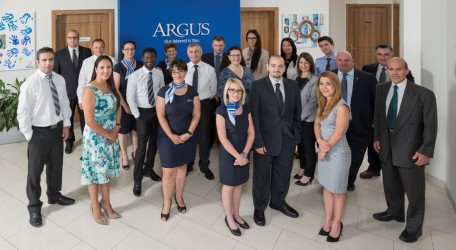 Argus Insurance Agencies Limited in Malta has won a Bronze Stevie® Award as Company of the Year 2016 – Insurance. Stevie Awards recognise the world's best companies to work for in a variety of categories. This is the second consecutive year that Argus has been recognised at the International Business Awards (IBA), the world's premier business awards programme, which is open to individuals as well as private and public organisations worldwide.
The 2016 International Business Awards (IBA) received entries from more than 60 nations and territories and IBA judges have reviewed a record total of more than 3,800 nominations from organisations of all sizes and in virtually every industry, in a wide range of categories.
Dr Vanessa Borg, Chief Executive, Argus Insurance Agencies Limited, said: "The International Business Awards are the Oscars of the business world and to collect a Stevie two years running is a great achievement. Over the past 12 months, Argus in Malta has continued to grow and develop, strengthening our business but also continuing to invest in our team. This award, of course, belongs to all of them and is testament to their effort and dedication, as well as highlighting the excellence which Argus delivers in the insurance sector"
Stevie Award winners were determined by the average scores of more than 200 executives worldwide who participated in the judging process from May through to early August. Nicknamed "Stevie" for the Greek word for "crowned," the awards will be presented to winners at a gala awards banquet at the Rome Cavalieri Waldorf Astoria Hotel, Rome, Italy on 21 October 2016.
For more information about The International Business Awards and the Stevie Award winners, visit www.StevieAwards.com/IBA.