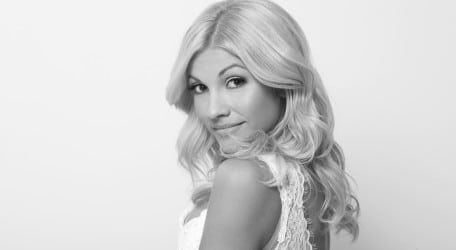 The organisers of Maestro & Friends 2016 have added a highly gifted celebrity to their line-up with the addition of gifted soprano Aliki into an already rich mix of musicians. Stunning the audience of Britain's Got Talent, including its notoriously brash judge, music mogul Simon Cowell who ended up announcing that her time to shine has come, Aliki will be performing some of her best renowned projects, including songs from her latest debut album, Reflections.
The British-Cypriot soprano burst onto the global music scene in 2013 after her success in the 7th edition of Britain's Got Talent. Her inspirational story combined with an angelic voice captivated the four panel judges, including Mr Cowell, who said: "You just have a natural talent Aliki…your time has come."
Aliki has rallied support for encephalitis after successfully battling the disease and has been honoured with the title 'Global Honorary Ambassador' of the World Encephalitis Society.
Graduating from Sheffield University with a Bachelor of Music, majoring in both piano and voice, Aliki then studied Musical Theatre and Drama at HB Studio in New York with a scholarship and followed further classical studies with renowned teachers and coaches such as Steven Crawford, one of the conductors of the Metropolitan Opera. She has studied closely with Tenor Armando Mora and has taken master-classes with maestro PierGiorgio Del Nunzio and maestro Marco Balteri.
At Maestro & Friends 2016, she will join Maestro Yiannis Hadjiloizou and Malta's leading jammers, Red Electrick, in what is expected to be a memorable soirée for fans in Cyprus and those travelling from Malta.
Speaking of her participation in Maestro & Friends 2016, a beaming Aliki said: "Cyprus has a special place in my heart and I will be joining Maestro Yiannis Hadjiloizou and Red Electrick in this year's edition of Maestro & Friends. This comes after the special concert for the 10th anniversary of the new Larnaca Airport. Kudos to the organisers of Maestro & Friends for bringing an international project that offers an eclectic mix of Greek, Cypriot, American, and Maltese talent in a true Mediterranean setting."
Supported by the Malta Tourism Authority (MTA), Cyprus Tourism Organisation (CTO), Emirates, and Cyprus Villages Traditional Houses, the concert is being jointly organised by the Cyprus Academy of Music and Malta's principal marketing communications agency BPC International.
Incorporating Red Electrick's concert at Kourion, Enrico Travel www.facebook.com/EnricoTravel) is offering travel packages to Cyprus from Wednesday 7th September to Monday 12th September 2016.On Mondays and Wednesdays, Emirates flies between Malta and Larnaca on a Boeing 777-300ER aircraft.