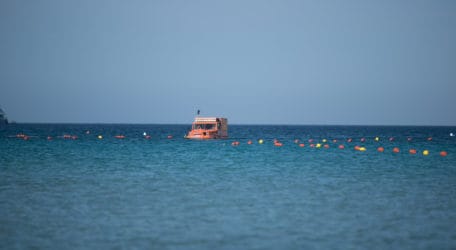 An unfamiliar and unexpected site recently greeted sun worshippers when the Aperol Spritz Amphibious landed at Għadira Bay. Having sailed into the bay and driven on to the beach, the orange coloured Amphibious let down its windows and doors to reveal itself as an Aperol Spritz bar and DJ stand. To the delight of the unsuspecting beachgoers, Vibe FM's Nate, Frank & Rossi were also on hand to entertain the crowd with music and games.
Claudia Attard, Aperol Brand Manager at Farsons Beverage Imports Company Limited, said, "Aperol Spritz is less a cocktail and more an aperitivo with a spirit that spontaneously gathers people together and sparks nothing but good vibes, whatever the occasion. Our Amphibious vehicle is a symbol of this attitude, bringing people together and creating happiness. Obviously such an event requires a lot of planning, also to ensure it is carried out responsibly and with no impact on the bay or beach. In this regard I would like to thank the MTA, ERA, Transport Malta, the Police, Mellieha Local Council and the NGO Zibel for their support. I would also like to thank Munchies in Mellieħa for their help in this event."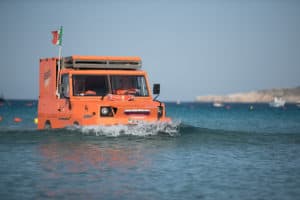 The original "Spritz" recipe – also commonly known as the "Spritz Veneziano" – features Aperol as its key ingredient and was added to the International Bartenders Association's Official Drink list in 2011. Its recipe is easy as 3-2-1 – consisting of 3 parts Prosecco, 2 parts Aperol, and 1 splash club soda in a balloon glass over ice – topped off with a slice of orange. It's the perfect low-proof cocktail that can be enjoyed during brunch, as a lighter option for an after-work get-together, or as a true Italian aperitif before dinner.