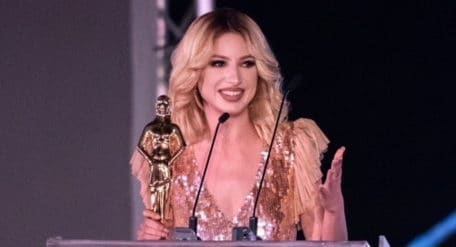 Popular local fashion blogger, Sarah Zerafa is Malta's Best Fashion Influencer after claiming this prestigious award at the 20th edition of the Malta Fashion Awards. The ceremony was held in Triton Square as the beautiful and fashionable young model, achieved a significant award once again displaying her considerable influence within Maltese fashion circles.  
Upon receiving the honour confirming her as Malta's social media star in the fashion industry, Sarah was over the moon. "Everything still feels like a dream. This award means a lot to me. Blogging has helped me create and discover new styles and outfits every day. It helps me to express myself through photography while meeting talented people. Blogging has also brought me closer to my followers, and I will be forever grateful for that," said a euphoric Sarah.
For the past months Sarah has been working exclusively with Malta's fashion house the DIZZ Group. Undoubtedly, this important award proves to be yet another significant accomplishment for the local official franchise owner of 15 of the world's top fashion and lifestyle brands. The CEO of DIZZ Group, Diane Izzo said that "the company feels that success is something we strive for very hard and enjoy people who are in some way associated with us in achieving success. We are absolutely thrilled that Sarah's latest award came at a time when she was so deeply involved with our Group.  Because of her contribution over the past months Sarah has been given due recognition and I am certain that our brands were a great tool to enable her to achieve this award."
Sarah thanked all those who helped her reach this important landmark in her career, particularly Diane and DIZZ Group for believing in her talent and capabilities. "DIZZ Group believed in me from day one and presented me with opportunities that I will cherish forever. Their hard-working team and very friendly staff have made this experience one to remember," said Sarah.
According to fashion entrepreneur Diane, Sarah's look is very special and "she can be easily referred to as the typical girl next door. She is also greatly influential on the public because of her styling, her extremely pleasant attitude, the positive energy she radiates whilst remaining very down to earth."
Diane believes that this award, thanks to the appreciation shown by the organisers of the Malta Fashion Week and Adrian J Mizzi in particular, confirms that in today's world, social media is a very important platform which enables customers to be constantly informed of the latest fashion trends, offers and promotions. "Sarah is extremely popular, and her wide-reaching followers get to see the best of glamour and style as she portrays it across all our brands," said Diane. 
Both Sarah and DIZZ Group are honoured to be working together and the young and attractive blonde model says that her top three brands from DIZZ Group are Elisabetta Franchi, PINKO and Guess. "Though I must admit I am also obsessed with Goldenpoint for their super stylish swimwear and Calliope for their trendy pieces," added Sarah. 
No doubt DIZZ Group played an important part in Sarah's latest success as they greatly believed in her and both sides are looking forward to strengthening their partnership at work. "We do have plans for the future and you will enjoy hearing all about them in the coming months directly from Sarah. I take this opportunity to wish her well for her certainly successful future," said Diane.