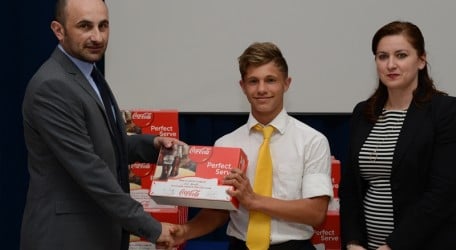 Pictured above: Marketing Ltd General Manager Brian Galea with Neil Bonello and ITS's Head of Corporate Services Claire Briffa
Some 120 students at the Institute for Tourism Studies (ITS) received support from GSD Marketing Ltd to train in the perfect serve of a Coca-Cola drink. GSD Marketing are the distributors of The Coca-Cola Company's drinks, produced in Malta by The General Soft Drinks Company Ltd.
The training programme was run by ITS lecturer Richard Pons and focused on the benefits of perfectly serving a drink to enrich a customer's experience.
During a presentation to reward the students for completing the course successfully, GSD General Manager Brian Galea praised the invaluable work being done at ITS and said that it was a privilege for GSD to be associated with Malta's tourism school. "It is important to instil this kind of service level in our future hospitality professionals as this will increase Malta's competitive edge in this highly challenging industry," said Mr Galea.
"Most consumers know how their drink should be served, which means that their expectations are most of the times high. Experience showed us that apart from taste, consumers give importance to the way a drink is presented and this was clearly the main focus during our 'Perfect Serve' sessions," said Mr Pons.