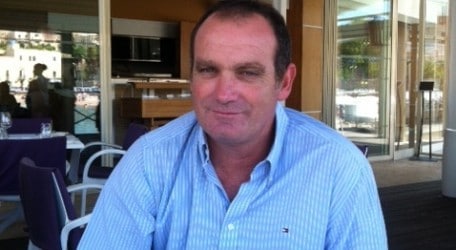 A summer lunch calls for a place by the sea, and what better place than Paranga at St George's Bay? This stylish restaurant juts out onto the water on a quay, giving you the impression that you are dining on a yacht.  Crisp white linen tablecloths with purple runners and matching chairs set the elegant tone.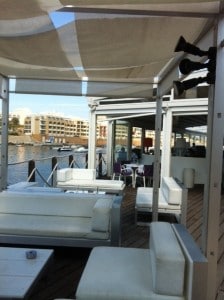 I am here to meet Martin Gregory who is the head of Human Resources at Vodafone; he leads a team of eight people for a company which employs 300 people.
Those who follow football will remember him from his days with Sliema Wanderers and for a few years with Floriana and then back to Sliema ("I'm a double Judas" he jokes, referring to the fierce rivalry between the two teams).
Sliema was definitely his first love however, not surprising for a boy who was raised smack opposite the football club which became his second home.
"I started playing football from the time I could walk. One of the only photos my mother has of me as a little boy shows me with a ball in my hands. I started with Young Boys, which was a like a feeder club for Sliema Wanderers. I was lucky because when I joined the team, the majority of the players were in their 30s and many were coming to the end of their careers – I was one of the promising ones so I got in."
For ten years ('85 – '95) he also formed part of the national football team at a time when the professional football scheme was in place.  It was a scheme in which 22 players were seconded from their job to train and play football fulltime.
"Those were the best years of my life," he recalls fondly. "You're doing something that you love, it's your job and you're getting paid for it. You wake up at 9am and go for training at 10am on a nice grass pitch in the sun – you can't ask for more."
By this time he had married his childhood sweetheart Sue, whom he had met at the Sliema pitch.
At the age of 30 he was told his time was up and that he had to return back to his job with ST, which was an understandable culture shock.
"I was literally playing football on Friday and on Monday, I was back to work!"
After returning to his job, he spent another five years with ST, and then made the move to Vodafone where he has worked for the last 12 years.
Martin Gregory started working with ST, fresh from doing his A-levels, when he was just 18. He went into HR immediately purely because the person doing the interview told him there was an opening in that department.
Luck played a part again because Martin's personality happened to suit the requirements needed for this role.
"You have to know how to listen to people – sometimes it's a fine balancing act between your employer and the staff. Honesty and being trustworthy are very important. I think having football in my life was a great learning experience – it taught me about the importance of forming part of a team. Now that I am a coach myself (with Melita F.C.), I take a lot of examples from my role as a coach to my work. When I have discussions with my line managers at Vodafone, I bring a lot of analogies from football. After all, in any given weekend I am going to have 11 players who will be happy and the others are going to be disappointed because they haven't played.  I have to keep them motivated and engaged which isn't easy – so there are a lot of similarities."
"When I have discussions with my line managers at Vodafone, I bring a lot of analogies from football. After all, in any given weekend I am going to have 11 players who will be happy and the others are going to be disappointed because they haven't played.  I have to keep them motivated and engaged which isn't easy – so there are a lot of similarities."
An important aspect of HR is promoting equal opportunities.
"Vodafone is one of the first companies to win the  Equality Award inMalta. The group places a lot of emphasis on inclusion and diversity and two of us from the HR team have actually gone on training to the UK for this. We have a lot of family friendly measures, such as reduced hours, which in most companies is an option which one has to negotiate with one's employer. At Vodafone, members of staff returning from maternity leave have an automatic right for reduced hours for one year, and if possible we try to extend it. We have a lot of people teleworking, working part-time and flexi-time, and we have also extended our maternity leave, giving three weeks more than required by law. We also ask our recruitment agency for an equal number of male and female applications, which we believe is another first."
Martin believes that it is a matter of positive discrimination rather than enforced quotas which is needed to boost the numbers of women in paid employment. Vodafone's track record speaks for itself.
"I think your organization needs to reflect your customer base. Now our customers are obviously made up of men and women so it's important that within Vodafone we have as many women as possible. We do this by being proactive – for example, we have a University students' programme where we select eight top students every year, and we ensure that we have four males and four females. Are we at the right numbers at management level? No, not yet, but we are working hard towards this. We do a peoples' survey every year and we get measured very well in our family friendly measures. We have female managers with one and even two children, who are still working with us. As an organization we see a lot of benefits in this because we are retaining the talent and the knowledge that people have, so it works well for both."
As it turns out the eight people in Martin's team are all female.
"At home my wife and I have two daughters, so I'm surrounded by women," he laughs. "Football gives me my sanity," he adds.
However, equality and diversity is not just about the obvious ones of gender and race. Martin points to another important aspect which is often overlooked: the discrimination which is often made due to social background.
"I admit I had never thought about it before until I underwent training, but it happens all the time and we are not even aware of it.  You might overlook people who have gone to a different school or have come from a different social background, for example. As I said, your employees have to reflect your customer base and this covers everything."
The mobile provider industry in Malta has become very competitive with constantly changing technology that presents new challenges every day. It is not easy to hang on to good staff when job mobility and even "poaching" by other organizations happens.
So how does Vodafone manage to retain its loyal workforce?
"Working in a challenging environment and being offered great career development opportunities are a must to retain your best people. Being part of a global organization means we have an advantage that we can give our employees the opportunity to go work abroad. In the last four years we have had about 15 people who have gone abroad for short-term, long-term and even permanent postings. Today young people think more in terms of a career, so they come in and are already asking, OK, what's next for me? We can offer them chances to grow and develop. We firmly believe that cross-functional moves are fundamental for a person's development, so I have people who today, for example, are working in marketing who started out as engineers or as accountants. This was not an easy policy to implement because people were initially scared of it. However, five years down the line, our staff  and the organization has understood the great benefits that cross-functional experiences offer."
"We firmly believe that cross-functional moves are fundamental for a person's development, so I have people who today, for example, are working in marketing who started out as engineers or as accountants."
Talent reviews are carried out regularly during which senior managements assess possible development opportunities for our people – obviously the employee too would want to make the change. Apart from this, this year 15 people were selected to participate in a leadership development programme, something we hope to continue in the coming years. When it comes to openings for graduates, Vodafone is always on the look out for the best people for their HR, IT, legal, commercial, engineering, marketing and finance departments. There is also a University Students' program where students in their penultimate year  are selected through a thorough assessment process, to work full time with Vodafone for the summer, with reduced hours during the winter ,with a view of eventually engaging them full time.;
Martin Gregory's job also includes contributing to what has become known as CSR (Corporate Social Responsibility). He in fact sits on the board of the Vodafone Malta Foundation (chaired by Mrs Gemma Mifsud Bonnici) which identifies various NGOs to support. The Board  is mostly made up of independent people, coming from all walks of life and from outside of the organization, in order to ensure that it is kept separate from the commercial side of the company. Rockestra, Voices Foundation, the Community Chest Fund, L-Istrina, the Special Olympics and Inspire are just a few of the organizations which benefit from the Vodafone Malta Foundation.
As an offshoot of CSR, Vodafone employees have been encouraged to do volunteer work with NGOs, which has proved to be of great benefit for morale boosting and team-building. Around 90% of the staff has done some form of volunteering this year.
"The feedback we get is amazing, and our people love it. We try and do it by department and it has really instilled a lot of teamwork. What is nice is that most of them chose to go back and carry out more work at an NGO out of their own free will. For example, our radio base station technicians whose job is to fix the mast are trained in abseiling. So they came up with an idea to go to an orphanage and do an abseiling event for the kids and even open it up to the general public. It was a great success so this summer they organized it again. Once you start realizing the need there is and how much good you can do, it keeps you going."
With all this responsibility at work, followed by his daily commitments as a football coach, I ask Martin how he manages to balance his family life.
"I get home at around 9 or 10pm every day," he admits ruefully.  "Thankfully my family is very supportive. In football if you don't have an understanding wife, you've had it. At times Sue does become a football widow – our friends go on a picnic and she goes alone, or she doesn't go so that she comes to watch the game. If your wife doesn't understand all this, you can have major problems. On the other hand, when I stopped playing football I didn't know what to do with myself after work; I just used to sit on the coach with the remote and zap. It wasn't good. I love being with a football team; that feeling in the dressing room is something you can't describe. The camaraderie that you build in a team sport is incredible."
At 47, Martin has also had to make the difficult adjustment of dealing with a new stage of parenthood: his two daughters are now aged 20 and 16. "It's very hard to accept that they have their own lives now, with boyfriends and so on," he says with the nostalgia of a typical father.
Easygoing by nature, Martin acknowledges that life has taught him one important lesson: not to hold on to grudges.
"I left Sliema Wanderers on very bad terms with the president at the time, George Bonello du Puis. I never spoke to him again after that and then he passed away. That's when I realised that over one argument which happened over 15 years ago I never spoke to someone with whom I used to have a really good relationship. I felt really bad about it and from that day on I always tell people that if you have an argument, just let it go and move on. That incident really made me change my perspective."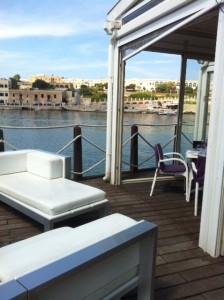 WHAT WE HAD FOR LUNCH
 Calamari Caesar salad 
Tagliatelle with prawns with a touch of lemon 
Green tea
Espresso Lungo