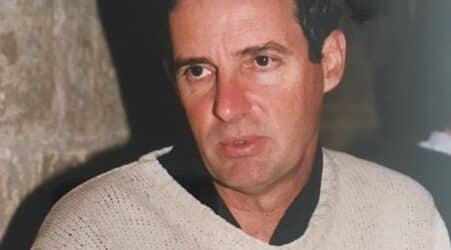 This interview was first published in 2003.
He left the security of an established family business to open a recording studio. Now he has formed Bridge Productions to develop the international musical careers of such singers as Ira Losco.
From the interviews I have done in this series, I have learned to recognise the signs of those who are very reluctant to talk about themselves. Paul Zammit Cutajar is one such person.
As we start the interview you can practically see a wall of reserve come up any time the subject comes anywhere near himself. Like many reserved people who shy away from personal publicity, he would much prefer talking about his work.
We met at Salvino's in Archbishop Street in Valletta on a cold, rainy blustery day. The warmth of the staff and the restaurant itself almost makes you forget the cruel winter we have been having. Casual and welcoming, Salvino's is one of the many bistro-type places which have cropped up in the capital which cater for a quick lunch. The owners have made full use of the unique architecture of Valletta's old buildings; the arched ceiling and old walls take you back to another era, as do the marble-topped tables and homey cushions on the chairs.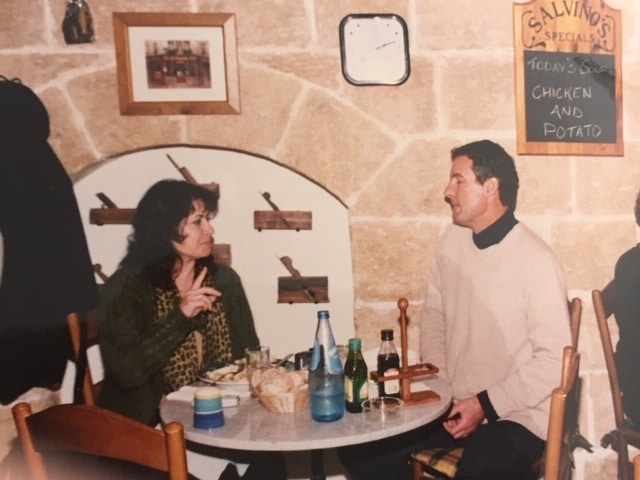 As Paul starts telling me about his new venture, Bridge Productions, his first words reveal how loathe he is to blow his own trumpet.
"I don't want to sound pretentious, don't get me wrong. But the more we move away from doing everything ourselves, and move towards having a network of people who are experts in their own fields, the more chance for a better product for anything, not only for music."
Bridge Productions, of course, is the company which Paul and his business partner Howard Keith have established in order to develop and manage the future of local artists. Their first, and most high profile client is none other than Ira Losco.
Because every new idea in Malta is viewed with (inevitable) suspicion, Paul is at pains to carefully explain the concept behind the company:

"We have a lot of international partners and we want to open the network up to local songwriters and producers as well. Everybody has a place to play and what we are trying to say is 'let's stop this idea of one person trying to do everything himself'."

This misconception that everyone is good at doing everything is something he has experienced first-hand. When he first went into the music business and opened up his recording studio, Farmhouse Studios, there were those who suggested he go into video editing as well.
"No, because sound on its own takes up a lot of time to keep on the cutting edge."
When I describe Farmhouse Studios as "one of the best recording facilities" on the island, Paul immediately becomes uncomfortable.
"I wouldn't like to say that. It's one of the good ones in Malta…as for 'the best' that's for others to say. We may be better in certain fields and other studios are better in others. For example I have a lot of respect for Temple studios."
Paul is quick to give credit to Howard whom he describes as ' the driving force'. Formerly a member of the band Limestone Kick, Howard is the recording engineer.
"His experience is just unrivalled. He enjoys a lot of respect both locally and abroad, but he is such a modest person. We make a perfect team; we complement each other as we both have our areas of expertise."
When you have two people with a musical background, who are both composers as well as songwriters, engineers as well as producers, you probably have the ideal combination for a recording studio. Having met Howard as well, I also know that they are both very alike in temperament: two quiet-spoken, easygoing men who are very talented at what they do, and get on with the job with as few words as possible.
Before we continue with the present, however, I take Paul back to the days when he still worked with the family business. He is one of the "Cutajars tal-Kodak", as we say colloquially, which goes back several generations. For the first time he relaxes as he speaks fondly about his childhood.
"My first vivid memory of music is tied to my grandfather when I was very young. The whole family used to celebrate Christmas together, it was a huge thing, in a big house in Valletta in St Paul's Street. My grandfather had a winter house in Valletta, a summer house in Sliema, and a house in Lija and he would travel from one house to another with his entourage. I wish I was born 50 years ago because their lifestyle in those days was nice. Of course, he was one of the lucky ones. Anyway, he had this massive sitting room with a piano and we weren't allowed to go in, they used to tell us it was haunted. But I still went in and remember pressing the keys – this amazing sound came out of this piano which I thought was fascinating. I just loved the sound and started hitting practically every key as a child would do, until I was told to shut up."
His fascination with music continued when he discovered his mother's old gramophone, the kind you had to wind up, and he would spend hours listening to records. Later, as a St Edward's boarder, he recalls the first time he was put on a piano stool for lessons and having to listen to Rediffusion programmes about classical music.
"Sister Jessie Briffa, God bless her, was the head of the music department, and she was very strict, rapping me on the knuckles with a ruler every time I made a mistake. Musically, I had two turning points in my life. In the early 60s, it was the discovery of the Beatles. I literally fell in love with their music and classical music went straight out the window. At school I still played the piano, but Beatles and Rolling Stones songs, which wasn't allowed. The headmaster would kick us out, then we would sneak back in again."
If this turning point influenced his musical direction, the next one, which came much later, changed his whole life. He was approaching 40, had just returned from a sound engineering course, and decided to leave the family business to dedicate himself completely to music.
"For me it was a difficult step to take, but I knew I wanted to do it. After all, I had been in a very secure job for 21 years. Of course, it was very difficult for my parents to understand why, but I respect them very much because they gave me all their support. It was an unknown field at the time."
At this point our soup arrives. In this weather I have become addicted to soups and we both had the freshly made chicken and potato soup which is served with crusty Maltese bread. Everything is served in bright yellow crockery.
Picking up our conversation again, Paul admits that his decision to open up a recording studio was risky.
"It could have worked or collapsed. But I would have been very unhappy to live the rest of my life thinking, 'what if?'."
I ask whether the decision he took had anything to do with his age at the time. Was it a case of now or never?
"Yes, probably. Music was always there, after work I was always involved in a band. Then I started seeing up and coming artists and you want to pass on your expertise. Bridge Productions is purely that – it is a production development company. Our main 'project' at the moment is Ira Losco."
Taking over the management of one of Malta's most popular singers came about very naturally.
"I suppose everyone goes through this, you try and give other people what you did not have when you were in that position. Today's artists are very fortunate. In my day, in the mid-70s, there were no recording studios, you had to go to London which was costly."
Bridge Productions have also been engaged to record Malta's song for the Eurovision, Lynn Chircop's To Dream Again. Now that the German record label Cap Sounds is no longer in the picture, this will be the first time that the song is being recorded locally.
Paul points out that it was all done by tender and all very much above board, something which is extremely important to him. He also would like to dispel any misconception that Malta's connection with Cap Sounds ended on a sour note.
"The result of Ira being released from Cap Sounds obviously benefited us because we were able to work with her. I have a great deal of respect for Manfred Holtz for being a gentleman in releasing her because he didn't have to. He saw that she had an opportunity to further her career and all respect to him. That is the way the industry works, we all help each other. A lot of people think there is some kind of animosity between us and Cap Sounds which is not the case. Unfortunately, locally rumours just spread. So I really want to send that message out."
Now that Ira is under new management, perhaps the most immediate change has been her image although Paul is at pains to point out that this not a 'new' image but actually, the real Ira, what she is really all about.
So who was she before?
"Before she was Ira the singer. Again, I want to pay tribute to Philip Vella and Gerald James Borg for a great Eurovision song. I think they got something out of Ira which is very, very different, a certain sweetness and charisma. But now her direction is different – what many people don't know is that she is also a songwriter."
Certainly, when she stepped out on that stage at The Venue during the MaltaSong Festival in her short black dress and sat down at the piano with new material, the contrast to her image of 7th Wonder couldn't have been more striking.
"Without taking merit away from anyone, she can't and doesn't want to keep singing those kind of songs."
Paul believes that the way countries perceive the Eurovision has a lot to do with their size.
"The Germans have a huge market, so they pick an amusing song which they know will sell in Germany. They don't care whether it will sell anywhere else. I think this year their entry is a fun song taking the mickey out of Schroeder. But we take it more seriously because for the moment it is our only international showcase."
So shouldn't we be sending the best in our music rather than 'cheesy pop'?
Paul shrugs…
"Music is a question of taste, and I think we have songwriters who have mastered the Eurovison formula. You have to see your market; it is the older age group who actually votes. Young ones will listen, but will not vote, so you need that hook."
Turning back to Lynn Chircop, Paul confirms that Bridge will be responsible for her artistic development until the Eurovision festival in Latvia on 24 May, with the option to continue after that.
To break into the international market, image, he is convinced, is as important as talent.
"Record labels assume you can sing properly. It's not the voice! It's the question of timbre and good pitch. Then there's the whole package: image, stage presence, the ability to write, to play an instrument, your personality, your attitude. A lot of artists may have most of those, but not one. If they have all of them, but have a bad attitude, the record company just won't touch them. You have to be workable."
There's a short, sharp lesson about the music industry if I've ever heard one.
So how do you explain someone like Norah Jones, who has just won so many Grammys? She's undeniably talented but not at all glamorous, opting for a simple, natural look and hardly using any make-up.
"But there's always something, some appeal, some story. Take Madonna in the beginning – not a very good voice, but amazing drive. She always came out with new concepts, keeping the music industry on edge – what is she going to do next? There must be something, an edge, something different. For a record company you are nothing more than a product and you have to be marketable. Of course with artists you are dealing with human beings, there is emotion involved, and you have to see how they feel. If it's not what the artist wants, it won't be genuine."
Giving me further insight into this industry, Paul points out that no record company actually listens to demo tapes sent in by artists because of the sheer amount they receive: up to 300 songs a week. They are also wary of the legalities involved because songs might be sent in which were actually written by someone else.
This is where a company like Bridge comes in, which does all the 'dirty work', ensuring the artist they are representing is genuine. This gives them added clout with record companies who are then willing to listen to a song.
Here Paul rushes in with his usual reservations:
"This is not to say that we are some kind of Messiahs, that Bridge has come along and we are the answer to everything. We don't want to come across like that, both for me and Howard that is totally out of character. Ultru, the opposite. We just want to use our experience to steer people in the right direction. It doesn't mean it's a formula for success because it's a long, tough road, especially now when the music industry is at an all time low because they're losing money."
On top of it all, Paul agrees, a degree of sheer luck is involved, the age-old adage of 'being at the right place at the right time'.
Turning back to Ira's current musical style, he points out that three of the songs she performed were written by songwriters who also write for No Angels and Lighthouse Family. The other three were written as a collaboration by Ira, Howard and Paul.
"The purpose was not to release an album, but to establish a direction. We know where we're going. We can now open the doors to other songwriters both local and foreign who may wish to write in that direction. It's a different approach to what used to happen before. Someone would write a song and tells her, 'here Ira, come and sing it for me'. First you have to see where the artist wants to go, and then you write songs, not dictating to her where she should go."
Although he is v-e-r-y careful not to sound boastful, he is quietly pleased with the reception that Ira received with her new songs. A video tape of that night has now been sent abroad and it's a question of 'wait and see'.
For our main course I had the chicken and couscous salad while Paul ordered very simply and specifically: parma ham, some slices of lemon, bread and olive oil.
One of his passions is cooking, which he inherited from his parents who used to encourage them to cook their own supper. At the moment, however, he is watching his diet. Tall and athletic looking, it comes as no surprise that Paul was an avid sportsman, trying his hand at all types of sports, but for the pleasure of it and not necessarily to win.
He also loves travelling "but as a traveller not as a tourist": exploring South Africa, back-packing in Guatamala, diving expeditions in Belize…that sort of thing.
The talk travels back and forth between the present and the past. Recalling his days as a band member with Flying Alligators, he describes himself with long hair.
"I wasn't really a rebel, although my parents seemed to think so…Is that thing still on?"
Paul points to the tape recorder, getting a bit nervous again as the conversation drifts towards his own life. We agree not to discuss his personal life, although he does tell me that he has a son, aged 20 and a daughter, aged 23.
That wall of reserve has come up again.
I steer him into safer waters where he feels more at ease.
He grew up in Sliema but has no regrets about not living there any more. Before he moved to his farmhouse on the outskirts of Siggiewi where Farmhouse Studios is located, Paul used to live in Madliena.
"At first my mother acted as if I were moving to Australia! She doesn't drive and Madliena is not on the bus routes, so it was 'Madonna, where you're going, up in the wilderness!' Siggiewi is an excellent location for a studio because it is quiet and has a creative atmosphere."
Theirs is a close family and he speaks with affection of his siblings: His sister Pippa is the well-known photographer, another sister Joan is an artist and interior designer while his brother Dennis works with the family business.
"Do you have enough?" he enquires, getting jittery again as he glances at the tape recorder.
Yes, no problem.
However, it as we are walking back to our cars that he reveals the most about what makes him tick, as he describes the strong moral values he grew up with:

"I strongly believe in doing things by the book, this was instilled in me by his father, who always told us 'la darba ticcappas, in-nies qatt ma jinsew' (if you are caught doing something shady, people never forget). All my life, I have always kept that in mind, how important it is to be on the straight and narrow."