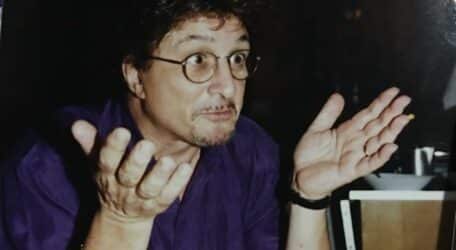 This interview was first published in 2002. Sadly, Enzo Gusman passed away on 16 December 2021 at the age of 74 at his home in Canada.
He emigrated to Canada with his young family, only to realise that his heart was really in Malta. A born entertainer, who has been in the business for 42 years, he will always be young in spirit.
"This is my favourite place because the food is great and the prices are reasonable. Michael, the owner and I go back 36 years because we used to work at The Whisper together," Enzo Gusman explains his choice of the Incognito.
The restaurant has to be one of Qawra's landmarks, one of the first places to open 30 years ago when the area was still relatively undiscovered. It has been deliberately left unchanged to please both the locals and the returning tourists who see it as one of those reassuringly familiar places which has not gone all modern and hi-tech.
Their speciality here is flambè and I'm easily persuaded to try one of their famous steaks.
First, however, we are presented with delicate hors d'oeuvres followed by portions of fresh mussels in wine.
Like most children at the time, Enzo (then known as Laurence) was a rather shy lad. When he was 13, one of his teachers encouraged the class to take up something they enjoyed in order to come out of their shell. Although he was passionate about football, he was terrible at it. So with a mother who was always singing at home, and a television tuned to RAI's variety shows, it seemed only natural that he would turn his interest to music.
When the late Johnny Navarro organised a 'name that tune' type of event for St Gregory's parish in Sliema, Enzo took part. Asked if he knew how to tell a joke or play the piano, Enzo decided he wanted to sing and he gave a rendition of the song which had just won at San Remo, Romantica.
"The audience really started clapping. I had never studied music, it just came naturally."
He began singing on a regular basis on a Rediffusion programme called Tic Tac and one day Joe Grima heard him. "My God, how you talk, Enz" he told him "You should be a DJ, do you want to do a programme?"
That's how Enzo first went behind the mike and he has not stopped being a DJ since.
He eventually joined a group known as The Boys and it was only a matter of time before he began appearing on television as well, and soon the name 'Enzo Gusman' became a familiar one.
"My parents were thrilled. I think with pop music you either have it in you or you don't. It's not like classical music, where you have to study voice and breathing properly. With pop music, you just learn the song."
While all this was going on, and spurred on by his parents, Enzo had entered University.
"They wanted me to get a BA or to become a lawyer but after a year and a half I applied for Barclays' Bank and I thank God for that. They were so strict, it was so disciplined and I learned so much about doing my work diligently, that it stayed with me for life," he says.
In 1979, aged 32, Enzo felt it was time to make a move in his life. By this time he had married another singer, Carmen Schembri and they had two daughters Johanna and Greta.
Although he had participated in several festivals, going to Chile no less than four times, his singing career seemed to be going nowhere. He started getting that 'bug' that people often get in Malta to leave the country for good.
Visits to San Francisco and Australia made him even more determined to leave. Sponsored by Carmen's brother, they decided on Canada where there was a demand for people with banking experience.
They went up to give a show in October, fell in love with it, and by December they had emigrated. By his own admission though, the going was "very tough". The vastness of the country was overwhelming as was the anonymity of living in Toronto.
He shakes his head at the memory.
"Here I was already established, everyone knew me, you go there and you don't know a soul, you're nothing. As one of my bank managers once put it, 'Enzo, you have to decide whether you want to be a small fish in a big pond or a big fish in a small pond' and that's what we are over here. I realised how right he was when I came back after 11 years. I got started right away, it was like I had never left!"
Starting from scratch was difficult enough, but emigrating with small children in the dead of winter made it harder.
"I have no grey areas in my life, it's either black or white. When we decided to emigrate, Carmen suggested we wait until spring, but I told her, no, if we're going, let's see the worst! So there we were with a 3-year-old who we had to bundle up each morning and drive 20 miles to take to our friends so that Carmen and I could go to work. At Mid-Med we had six months' emigration leave, and if you come back within that time, you have your job back. I came very close to returning, but I didn't want to feel foolish in front of my friends.
Eventually, they adjusted and things started looking up. So much so that Enzo's sister emigrated to Canada as well, and after a few years, so did Enzo's parents, "at the age of 65!" When his brother came up too, the whole family was re-united.
Although he had some lucky breaks with his singing, looking back he says he chose the wrong country. In Canada, the favourite genres are rock and country. However, he did win first prize with Il-Pjazza tar-Rahal in a contest organised by a multi-cultural radio station and was asked to work with them part-time.
While he wasn't really going anywhere with his singing, to his surprise he was going places with his banking career and ended up working with a string of different banks, "I don't think any other Maltese national has worked with as many banks as I have," he claims as he enumerates them. He was in the right field at the right time with the right background for upward job mobility, and better and better offers kept dropping into his lap without any effort on his part.
He went into the booming real estate market for a year and spent the last three years as a manager at Citibank, one of the largest banks in the world.
It was when he came back on one of his visits to Malta that he started questioning whether he was in the right place.
"In 1987 I happened to be here during the song festival and I couldn't believe how much it had changed. It was being held at the Mediterranean Conference Centre which I had never seen before and I was flabbergasted (bellahni!) Maltese music had really progressed and all these singers were earning Lm30 – Lm40 in one evening, when all we used to earn was Lm5! But the most tempting thing was when Gemma Portelli, who had just come from Australia, told me how much they mentioned me over there. So I gave a concert in Australia but with the great advantage of being an emigrant myself, so I knew what people wanted. They were so enthusiastic about my performance that I thought to myself 'what on earth am I doing at the bank, where no one knows who I am?'"
So, ironically enough, after uprooting his family to try his luck in Canada, Enzo Gusman came to the realisation that his singing career had a better chance of taking off in the very country he was so eager to leave.
"These have been the best 12 years of my life," he now says in retrospect. "Even though I took part in the Song for Europe so many times and never managed to win," he adds wryly.
As he points out, between his programmes on radio, television and performing at hotels he is one of the few who is making a living from the thing he loves best: entertaining. Since his return, he has been invited a further five times to Australia.
Not too shabby…
But I just couldn't resist asking the obvious question: so do you prefer being a big fish in a small pond after all?
Enzo is completely honest: "Yes, because I've tried both. If I'd never tried it, I would always wonder, 'what if?'. It was Carmen who had encouraged me to give it a try. I used to be constantly complaining, 'I'm not getting anywhere here' which is what happens to a lot of people, after all. And we tried it. The biggest regret I have, of course, is that our children didn't come back with us. But we couldn't uproot them, they were 21 and 16. So at first we used to travel a lot back and forth, and many times Carmen would stay there with them and I'd come alone."
While his daughters are completely Canadian-ised, Enzo's heart has never really left Malta. He grapples with words to explain how he feels about his homeland.
"In Malta I feel….I don't know. Most people love me, although I know a lot of them hate me as well. But they hate me because of the way I talk, I'm very open. Above all, despite the fact that there are so many young singers who are, let's face it, bloody fantastic, Fabrizio, Ira, Lawrence Grey, Karen Polidano, thank God I'm still going strong. They still invite me to sing with them and the audiences still want me."
We talk about the saga of his participation in the Malta song festival.
1966 – he won but Malta was not taking part in the Eurovision at the time
1971 – he came in second, and Joe Grech represented Malta as we were now taking part
1974 – he won but did not go because the Government had decided not to take part
1975 – Renato won and went to the Eurovision (we were participating again)
1976 – he won but, again, did not go to Eurovision (we were not taking part!)
1991 – 1998 – participated but never won
Any other person would be convinced he was jinxed.
He makes no secret of the fact that he was greatly hurt and disappointed. However, when he sees what has happened to his fellow singers, he wonders whether the hype is really worth it.
"God forbid it was me who went to the Eurovision, placed third or second, and nothing came out of it. I would have committed suicide. Imagine, you go up there, do all that, and end up singing in bars and hotels where people like me are singing. X'jibqa' fik? (How could you handle that?)."
His next words are even more startling:
"In my opinion, men might as well stop taking part entirely. Look at the first six places: they were all women! Male singers are wasting their time, like I wasted my time, as well as money. These days you know how I look at it? I will always be remembered as the singer who never represented Malta at the Eurovision."
But you kept trying…
"I kept trying until the very end until I realised that I was too old, yes. Mostly however, it was because when I saw that Mary Spiteri and Chiara came third and nothing came out of it, I thought 'why am I worrying so much about it?' With all due respect to them, as well as to Ira, who came in second last year. Do we remember who came in third last year? Once I got into an argument with Mary over this because I said it on air and she was upset. Of course, maybe I'm reasoning like this as a kind of defence mechanism. If the peak for a singer in Malta is the Eurovision, the only thing left after that is down. So the fact that I've never gone means that I'm still reaching my peak!" Enzo concludes with a laugh.
That's positive thinking for you.
These days, he focuses more on his live performances, and is pleased when people who initially cringe when they see him ("oh no, not him!") are pleasantly surprised at how good he is ("ma kontx naf li inti tajjeb daqshekk").
"I've never really been at the top like the craze there is for Freddie Portelli. So people don't really realise, modestia apparte, that I can do a bit of everything. How many singers are there who can do 50, 60 songs in one evening? From Pavarotti to Ricky Martin. Most people judge on what they see on TV and on TV you only sing one song and most of the time you're miming it."
We pause for the main course, Enzo had swordfish with octopus and I had a flambed steak Diane with fresh cream and mushrooms.
Talk turns back to his long-running radio programme Bejn il-Hbieb, now on Radio 101. He denies that he is deliberately controversial.
"I just speak my mind, and whether people agree with me or not they can phone in with their opinions, and no hard feelings. Maybe it's because I've lived abroad, but people are afraid to be honest here."
One memorable controversy concerned his singing. When Malta played Italy, he convinced the MFA to let him sing the respective national anthems. When he sang the Italian anthem, however, all hell broke loose.
"Whistles, boos, insults (bil-Malti pur), shouts of 'who do you think you are?', people blowing raspberries! Then it got on the radio, how servile we are, what boot-lickers we are, what a licker Enzo is and so on. My point was that it was just a sign of respect. About three years later Malta played Holland, and a singer came out singing the Maltese anthem in Maltese! I get a call at 5am from a guy apologising for criticising me. He realised how ridiculous he was being when he made such a fuss."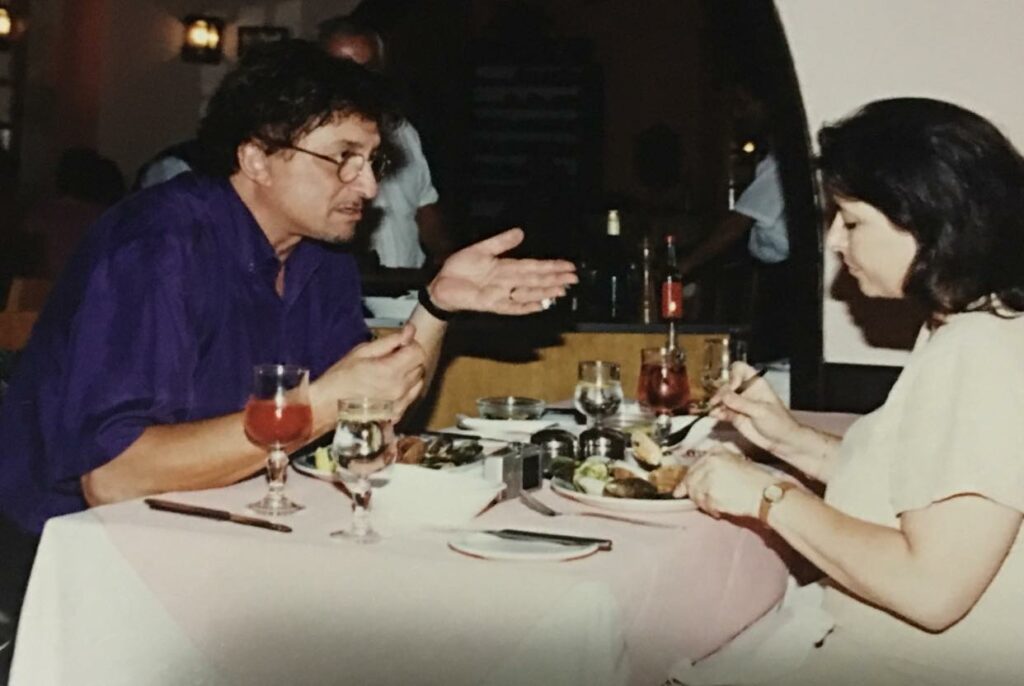 A well-known incident was the candid camera stunt which the team of Tghid Giet Hekk Hux! played on Enzo but which he did not allow them to transmit. The stunt involved a 'heckler' during one of Enzo's live performances which was being secretly filmed.
"It was at my place of work," he explains. "And my work is sacred to me. It was extremely embarrassing to do those things in front of an audience, even though I handled it very well. The main reason I was upset was that Karl and I were the best of friends, he knows my sore point (jaf biex inbati) and he used it. We had a huge argument because of it and did not speak for a long time. We only patched things up recently."
Many might accuse you of lacking a sense of humour.
"Oh, a lot of people told me that! But others were pleased that I stood up to them. Mary Spiteri did the same."
Enzo Gusman's main bone of contention is that the media 'uses' entertainers, with every TV station expecting them to sing for free, which he refuses to do.
"We're digging our own grave by appearing everywhere. I'm not saying you should be expensive, but you have to be selective. You can't get to the point that you're annoying people because you're over-exposed. It's very tough especially when you've been around for 40 years."
With a shrewd eye on his career, he has carefully cultivated his own repertoire, and to date he has about 600 songs which he can perform, and is constantly adding more. The interesting thing about Enzo, however, is that he is more than just a singer, he is also a showman. He has a range of stand-up jokes (which he willingly demonstrated for me) and it is obvious that he loves nothing more than that electric rapport of performing in front of a live audience.
"My voice is nothing special or extraordinary, it's a normal voice, but I push it to the limit so that I can sing a whole range from Elvis to Louis Armstrong."
Enzo also has a number of deadpan imitations of well-known people which are spot on. His gives me his amazing rendition of President Guido de Marco, and laughs with delight at the expression on my face.
"I did in front of the President himself and he loved it!"
He is young at heart, much to his children's chagrin.
"They want me to be like other fathers. I guess I embarrass them. Johanna will tell me, 'oh my God, you're not going to sing Ricky Martin, Dad? Please, don't!' I don't think I'm Ricky Martin, but I do feel I sing his songs pretty well."
Vanity, inevitably, comes up. He sighs dramatically.
"Ah, you've touched my weakest spot. I have no doubt at all in my mind that if I were better-looking, I would have been more successful. In show business, looks are very important. I've done some cosmetic changes, I fixed my nose, I fixed my hair, and I tell you the attitude of people towards me changed. First impressions do count."
He is full of praise for the new crop of talented singers like Ira Losco, "How I wish I had her talent when I was 20! She's got everything, looks, talent, good diction, youth. I look at Fabrizio and tell him, 'kelli bzonn I was half as good-looking as you'! Let' face it, with just talent you do get somewhere but the climb is much harder. Life is much easier for good-looking people."
He even attributes the negative impression people have of him to his looks. "The first thing people tell me is, 'kemm kont nahsbek antipatku' (I used to think you were so annoying), every time! I can't understand it. John Bundy has the same problem. He once said 'the majority of people that don't know me hate me and the majority of people that know me, love me.' Maybe it's because to overcome our shyness we overdo the self-confidence bit.'
Enzo Gusman likes to talk, so my final question was: has anything ever rendered you speechless?
"Once I was singing at Tarxien, doing my tarantella songs where I get everyone clapping. One woman in the front was not clapping and I asked her why. She then showed me that she only had one arm and I was mortified (inblajt). It was the worst moment of my life."