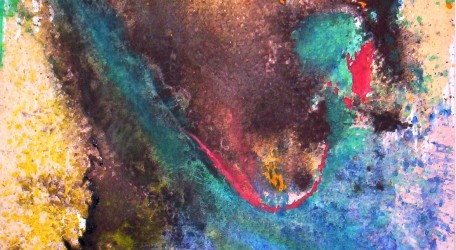 Painting above: Birth of a seed
Damian Ebejer inaugurated his first-ever retrospective exhibition Never Mind the Dust yesterday evening at Villa Madama in Balzan.  The exhibition showcases over 30 of his paintings – a selection of works that span a period of more than 15 years, from the time when Damian held his first public solo exhibition in 1994 at the Museum of Fine Arts.
For Never Mind the Dust Damian has quite literally brushed off the dust from some of the works he has kept over the years, so that he could display a pictorial map of his development and of his transformation.  Over the years his work has changed and evolved through the exploration of landscapes, realism, surrealism, figurative painting and abstract expressionism.  "I felt the need to take stock of who I was and where I came from," said Damian Ebejer.  "This exhibition does just that.  It shows my artistic journey.  It's also the catalyst for my next steps forward and future work."
Besides his original paintings Damian Ebejer will display a photographic portfolio of his ceiling and mural artworks carried out in various palazzos, churches, museums and private residences in Malta. These include restoration and creation of murals and ceiling deco at Palazzo Falson, Palazzo De Piro, the Carmelite Priory, Palazzo Parisio and Casa Rocca Piccola to name a few.
The exhibition is also a launching pad for Damian's latest book The Divide of Silence – a book of poetry spanning some twenty years.  A selection of these will be read out during the soiree.  "A frequent question I'm asked is whether there is a connection between the visual and written art forms I choose to work on," said Damian.  "There is no straightforward reply to this.  But I feel that my play with words evokes imagery and colour".
Damian Ebejer has held several solo exhibitions and taken part in numerous collectives.  This exhibition will run until end December.  Viewing times are between 7.30 pm and 10.30 pm.