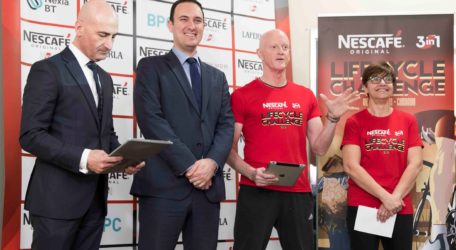 LifeCycle (Malta) Foundation announced its new sponsorship deal with Nescafé 3in1 for the 21st and 22nd editions of LifeCycle Challenge.  The two-year sponsorship of €70,000 will see Nescafé 3in1 as the title sponsor of the LifeCycle Challenge.
The press conference, held today (22nd February 2019) at ChicPhysique Studio at Hilltop Gardens, was addressed by the Parliamentary Secretary for Youth, Sport and Voluntary Organisations Dr Clifton Grima, Nestlé Marketing and Corporate Communications Manager Alfred J. Borg, Alan Curry and Dr Shirley Cefai Founder and Chairperson from LifeCycle (Malta) Foundation respectively.
LifeCycle (Malta) Foundation Founder Alan Curry said: "This is a significant and substantial partnership for our forthcoming endeavours. Such partnerships increase our motivation to work even harder to benefit kidney patients and their families."
"Today, we are also announcing the destinations of Nescafé 3in1 LifeCycle Challenge 2019 which will take our team of cyclists on a route starting in the city of Hanoi in Vietnam, going through Laos, Cambodia, re-entering Vietnam to end in Ho Chi Minh City in Vietnam:  a 2,000 km route through Southeast Asia," said Mr Curry.
Commenting on Nescafé 3in1 sponsorship, Mr Alfred J. Borg Marketing & Corporate Communications Manager said: "The partnership with the LifeCycle Challenge will further highlight Nestlé's ongoing commitment in promoting a balanced and healthy lifestyle among its communities, and in this case in Malta. Furthermore, the Respect and Dignity the Lifecycle Foundation has sought from inception to instil into this cause is demonstrated by their effort to treat not merely the patients, but their relatives and the rest of the community through various initiatives aimed at educating and preventing. Nescafé too seeks to instil respect from the plant, to the farmer, to the community, to the planet and ultimately to our consumer. Respect is, in fact, the secret ingredient which has turned our coffee into Malta's favourite coffee for over 70 years."
Parliamentary Secretary Clifton Grima praised the LifeCycle Challenge cyclists and the support team for using their sports abilities for such a noble deed with one aim in mind: that of helping renal patients and their families. He said: "It is inspiring to see so many people coming together to freely give their time, money and expertise in the service of others. We are a nation tied together through family, community and citizenship, and us all being here today is a great example of the strength of those bonds"
Training for Nescafé 3in1 LifeCycle Challenge 2019 commenced. Donations for this cause can be sent via sms: 5061 7370 = €2.33; 5061 8920 = €6.99; 5061 9229 = €11.65; or via a call to 5160 2020 = €10, 5170 2005 = €15; and 5180 2006 = €25. Bank details are Swift code VALLMTMT, IBAN number MT 18 VALL 22013000000014814521017, Bank name Bank of Valletta, Account number 14814521017.
For further updates and to donate towards LifeCycle Challenge 2019 on: https://www.facebook.com/LifeCycleChallenge/