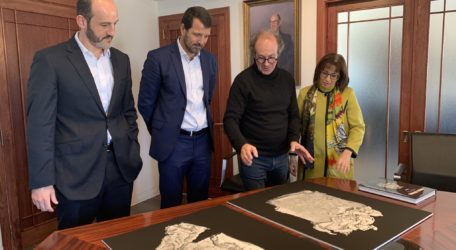 Renowned Maltese photographer, Alex Attard has recently presented GasanMamo Insurance with two of his photographs which were displayed during his latest pictorial exhibition entitled 'Parallel Existences' in Valletta. Malta's leading insurance firm was among the companies that supported this exceptional exposition in which Mr Attard was capable to capture the contents of damaged documents in the Notarial Archives through artistic and creative expression.
Mr Attard met GasanMamo's Managing Director, Julian J. Mamo and General Manager, Mark Mamo to thank them for their support, which was helpful for 'Parallel Existences' to be successful. Moreover, Mr Attard expressed his appreciation at the fact that GasanMamo is constantly supporting local artists in various exhibitions displayed around Malta and Gozo.  
GasanMamo is proud that they have endorsed this photographic exhibition especially after Mr Attard's nomination for the 2019 Prix Pictet for his series 'Parallel Existences'. No doubt this nomination proves the success which was achieved by the artist in this artistic exposition, which was organised in collaboration with the Notarial Archives Foundation and showcased a series of never-before-seen, sculpture-like historical documents. GasanMamo has been supporting the Notarial Archives in Valletta, in various projects, since 2013.
The Prix Pictet is the global award for photography and sustainability supported by the Swiss Bank Pictet & Cie. The theme for this year's cycle is Hope and the "Parallel Existences" series presents a narrative based on a dialogue of hope between historical documents destroyed in the war and the photographer through an artistic expression where history informs art, and art returns continuity to history by restoring time, memory and purpose to it.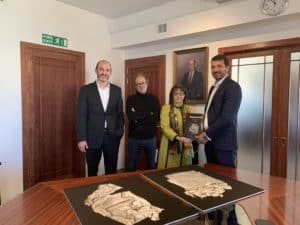 GasanMamo strongly believes that art exhibitions such as 'Parallel Existences' inspire us, it fosters creativity, goodness, and beauty. The company is honoured to support these types of initiatives and recently the insurance firm donated €15,340 over three years, contributing to the conservation of three invaluable volumes of Notary Placido Abela, spanning from 1557 to 1595. This sponsorship scheme and collaboration between GasanMamo Insurance Limited and the Notarial Archives Foundation (NAF) has played an important role in ensuring the preservation of the nation's paper heritage.
"GasanMamo is proud to maintain its support to these types of projects. We trust that by doing so we are making sure that Malta's rich history remains alive for future generations. Moreover, I strongly believe that it's essential that companies support the Notarial Archives as this place serves as a repository for over 20,000 registers containing notarial records holding some of the oldest records that showcase the fabric of life in Malta during some of the most interesting and turbulent times in our history," said Mr Julian J. Mamo.