Inspire Foundation, Malta's leading organisation in the disability sector, is announcing an exciting upcoming fundraising sport activity on Sunday 5th November 2023, that aims to celebrate the remarkable contributions of Ms. Janatha Stubbs towards Inspire Foundation and the broader community of Marsascala and beyond. Ms. Stubbs, alongside her husband Paddy Stubbs, founded the Razzett tal-Hbiberija, which later merged with the Eden Foundation to become Inspire Foundation. Her dedication and tireless efforts have left an indelible mark on the organization and the lives it touches daily.
Janatha Stubbs is a passionate advocate for the inclusion of people with disabilities and has been an unwavering supporter of Inspire since its inception. Her commitment to fundraising has gone above and beyond, encompassing not only rallying her generous friends to donate but also actively participating in numerous activities and events organized by and for Inspire over the years.
One of the fundraising events dear to Janatha's heart was the 'Marsascala Family Walk,' a delightful stroll along the promenade of Marsascala and its surroundings, where participants enjoyed the scenic beauty while contributing to the Inspire cause.
In 2023, Inspire is committed to continuing this tradition in honour of Janatha Stubbs, while extending an invitation to even more participants. This event will be seamlessly integrated into October's "Make a Difference" campaign, reflecting Janatha's lifelong commitment to community betterment. The centrepiece of this year's event is the "Janatha's 5KM Challenge for Change," offering everyone a chance to make a meaningful impact.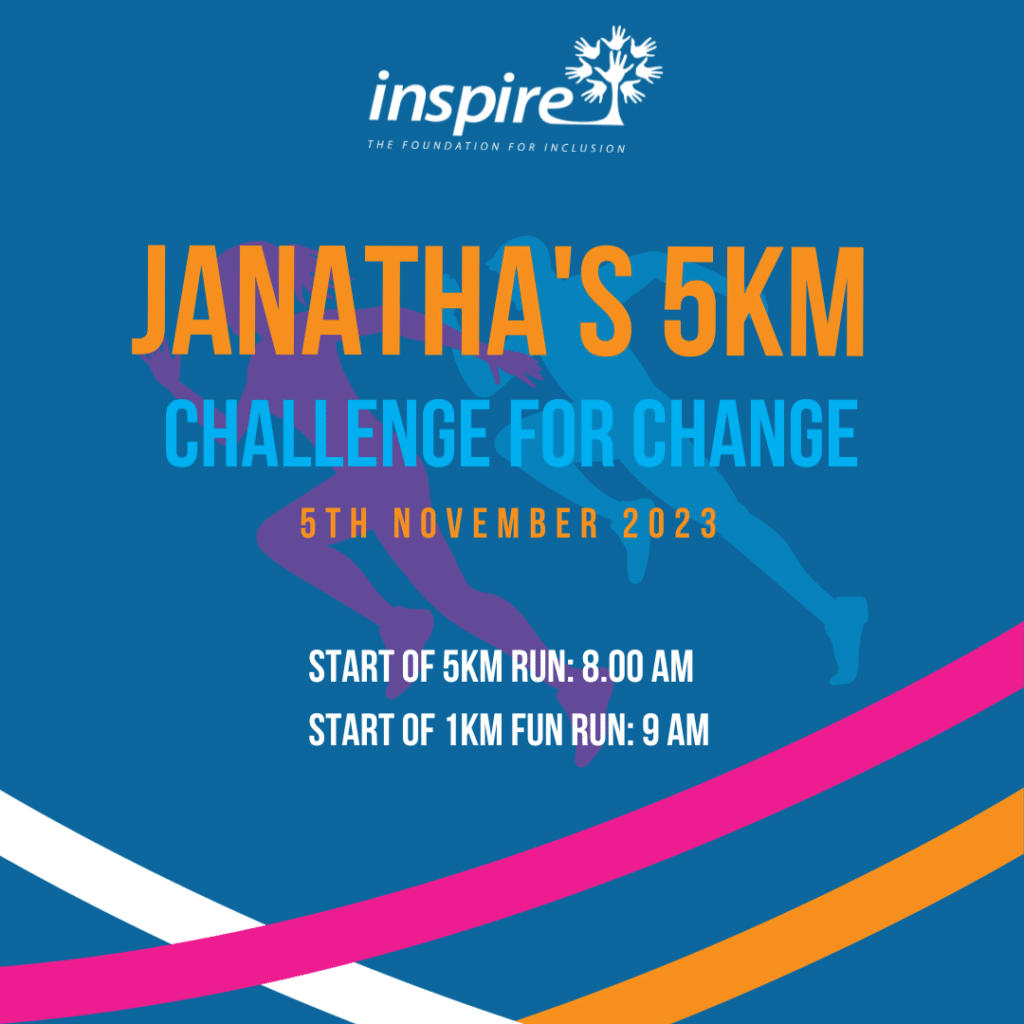 Event Details:
5km Run/Walk and 1km Fun Run: Open to all ages.
Starting and ending point: Inspire Marsascala car park.
Start of 5km run: 8:00am – this run will be timed for athletes and open for those seeking a fun experience.
Registrations: 21st October, Inspire Marsascala – all day, anytime between 8am and 12pm.
Start of 1Km fun run: 9:00am – a non-timed, family-friendly run open to children and their families. Individuals with disabilities and their families are highly encouraged to participate. The fun run follows the initial section of the 5km route.
For this event, the organizers have set an ambitious target of registered athletes for the 5km run and the 1km Fun Run. For all of you who want to be part of this, registration is now open and can be completed online through the registration form available at https://forms.office.com/e/sPnv2qw0mN.
The contribution for participating in the 5km event is of €15 per person, while the participation in the 1km event is €5 per person. Attendees are invited to join in celebrating Janatha Stubbs' extraordinary contributions to the community and her dedication to making a difference. Participation in Janatha's 5KM Challenge for Change and generous donations will directly impact the lives of individuals with disabilities and their families.