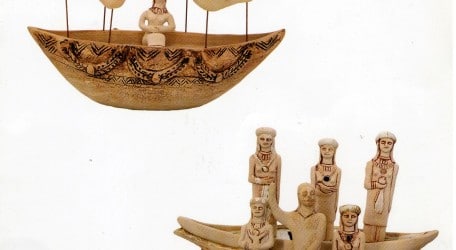 Pictured above: Work by Myro Psara
A joint celebration of contemporary ceramic works by Maltese and Cypriot artists is being held at the Auberge d'Italie, Merchants Street, Valletta. The result of a collaboration between Maltese and Cypriot ceramists, this is a continuation of a series of ceramic art expositions held alternatively in Malta and Cyprus since 2005, which have been actively supported by Emirates airline.
Vassos Demetriou and Efthymios Symeou are heading twelve other Cypriot ceramists who are all members of the Cyprus Ceramists and Potters Association, while Mario and Charles Sammut are heading the group of twelve Maltese ceramists.
As in previous years, the ninth edition of this project is an inspirational showcase of contemporary ceramic works from both Mediterranean islands, wherein some of the best ceramists from both islands are taking part.  It includes about 60 works.
"Alternating the venue every year between Malta and Larnaka in Cyprus, the exhibition stirs away from traditional craft to present an art form defined as contemporary ceramics. We encourage the public, and in particular art students to visit the exhibition at the Auberge d'Italie," said Charles Sammut. "Starting as a small exhibition organized by a group of twelve ceramists, six from each of the two Mediterranean islands, the idea of this exhibition was both an immediate success and well received by practicing ceramists and art enthusiasts from Cyprus and Malta."
Emirates Manager for Malta, Paul Fleri Soler, said: "Emirates has been supporting this artistic initiative for a number of years because we believe that the exchange of cultural ideas between the two Mediterranean islands can actively foster creative collaboration and better understanding between the two people. This fits perfectly within Emirates' broader policy of encouraging further artistic, cultural and commercial exchanges between Malta and Cyprus."
"Through these exhibitions, Maltese and Cypriot ceramists, who travel to each other's country for the respective exhibition, have formed a working relationship through such cultural interactions and encounters. The principal aim is the exchange of ideas, information and other cultural elements which help foster better mutual understanding between ceramists of the two countries.  The continued development of contemporary ceramics from both countries is evident for all to see at this exhibition," Mario Sammut.
The previous editions were held at Palazzo Vilhena, Mdina, (2005); Galleria Kypriani Gonia, Larnaka, (2005); Auberge d'Italie, Valletta (2007), Municipal Gallery, Larnaka (2008) and St James Cavalier Centre for Creativity, Valletta (2009), Municipal Gallery Larnaka (2010), Bagheria in Palermo (2011), and Municipal Gallery, Larnaka (2012).
Emirates is operating four scheduled flights weekly from Malta to Dubai via Larnaka, Cyprus, on Mondays, Wednesdays, Fridays and Saturdays. While on Sundays, Tuesdays, and Thursdays, Emirates operates direct flights from Dubai to Malta and return flights fly via Tripoli.
The exhibition will remain open until 6th November 2013.