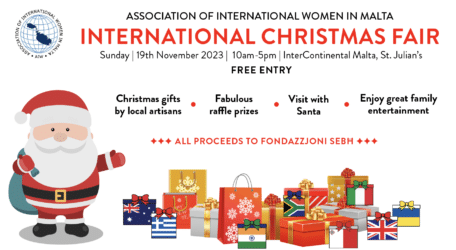 The Association of International Women in Malta, (AIWM) is excited to announce the International Christmas Fair, a festive celebration full of holiday cheer. This popular event will take place on Sunday November 19th 2023, from 10:00 AM to 5:00 PM at the InterContinental Malta in St. Julian's.
The Fair is an annual tradition that brings together people of all backgrounds to celebrate the spirit of Christmas and raise funds for an important charitable cause. This year, all proceeds from the event will go to support Fondazzjoni Sebħ, which provides residential and community outreach services to vulnerable women, youths, and children.
Entry to the magical fair is free, ensuring that anyone can partake in the festive fun.
Highlights include:
CHRISTMAS GIFTS BY LOCAL ARTISANS: Unique and handcrafted gifts created by local artisans, the perfect opportunity to find that one-of-a-kind present for loved ones.
FABULOUS RAFFLE PRIZES: Buy your tickets now or at the Fair for a chance to win wonderful prizes. Included is a €500 voucher for Sicilia Outlets, luxury hotel trips, restaurant vouchers, a flight around Malta, and beauty and workshop visits. You don't have to be present to win!
HOME-BAKED GOODS: a wide variety of delicious homemade treats and baked goods, lovingly prepared by talented AIWM members.
LIVE ENTERTAINMENT: performances throughout the day, including music, dance, and more, to keep the festive spirit alive.
MEET SANTA: Children and adults alike will have the chance to meet Santa Claus himself and share their holiday wishes.
Start the holiday season at the International Christmas Fair, Sunday, November 19th, 2023 at the InterContinental Malta in St. Julian's for a day of seasonal shopping and festivities, and make a positive impact on the lives of others.
Note: Fondazzjoni Sebħ provides residential services to children, female survivors of violence and their children, as well as a community service offering support to individuals and families. https://sebh.mt
Note: AIWM gathers women of all ages and nationalities to celebrate their differing cultures and varied perspectives as friends. The organisation raises funds to support local Maltese charities throughout the year. www.aiwmalta.com.
For more information about raffle tickets, the International Christmas Fair or AIWM, please email aiwmchristmasfair@gmail.com