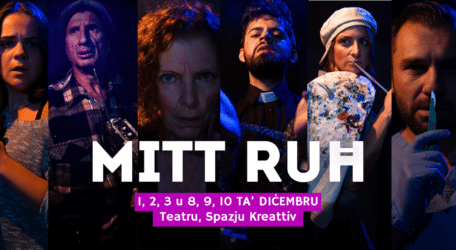 A theatrical production staged at Spazju Kreattiv 1, 2, 3, u 8, 9, 10 December
Language: Maltese
What goes through the mind of a surgeon when he realises that the patient he is to operate on had made his life miserable in the past? Which strong smell nauseates a young priest and what is the horrific reason why? And what startles a young woman late one night when she spies on her neighbours with her binoculars?
These intriguing storylines are inspired by Ġorġ Mallia's collection of microstories MITT RUĦ and will feature in Victor Jacono's adaptation for the stage which is slated for the opening weekends of December.
"Jacono has done a terrific job," says Clive Piscopo, one of the producers of Mitt Ruħ. "As a writer he has intelligently found a way to incorporate the 100 characters mentioned in Mallia's collection; and as a director, he is pulling all the stops to bring these characters to life and provide the audience with an exciting night at the theatre."
The play is set to take the audience on an exciting ride as it explores how our lives and the lives of others have a habit of intertwining or even missing each other in the most unpredictable ways. But more importantly it toys with the very ways we are connected to each other: is it what we say or what we do? Is it what is said or what is left unsaid? Is it our private thoughts or our very actions in the real world?

MITT RUĦ will be staged at Spazju Kreattiv, Valletta on 1, 2, 3, and 8, 9, 10 December. Tickets can be bought from www.kreattivita.org
The stellar cast who will play more than twenty different characters comprise Theresa Gauci, Peter Galea, Clint Chircop, Alison Abela, Kyle Mangani, and Alexia Micallef.
MITT RUĦ is a collaboration between Theatre Lab Malta and Victor Jacono. This project is supported by Arts Council Malta, MCAST, and is part of Spazju Kreattiv's programme.