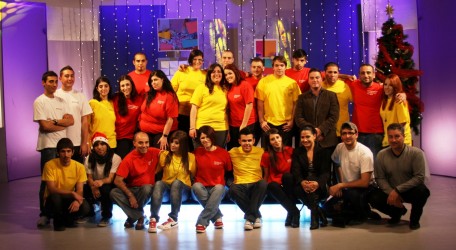 The Vodafone Foundation has collaborated with MCAST to produce a Christmas-themed music video in order to help raise funds for homeless children sheltered at the Ursuline Sisters' Piccola Casa di San Giuseppe inValletta.
Vodafone employees Rosalie Theuma, Rachel Zahra and Daniel Bruno performed John Lennon's classic "Happy Christmas (War is Over)", accompanied by MCAST students and fellow Vodafone colleagues.  The music video will run in Vodafone's concept stores with the aim of raising over €1,000 in aid of the home.  It will also run virally on Vodafone's Facebook Page and other social media channels, and backed up by Vodafone's SMS marketing.  The video features an SMS donation number through which the general public can give their offerings.
The sisters currently care for 11 boys and girls aged between six and 17 years who come from difficult social backgrounds.  The Home is currently undertaking renovations in order to offer the children a better living environment.  Despite being a beautiful house Piccola Casa di San Giuseppe is in dire need of refurbishment, including maintenance of roofs and walls.
"We have given our other homes in Guardamangia, Tarxien and Sliema a very homely environment where the children can feel welcome and safe," said the Ursuline Sisters of Piccola Casa. "We've furnished kitchens, bedrooms and living areas so that the children can enjoy a home environment which provides them both with a sense of community and privacy. Our House inVallettais next.  We are very grateful for this initiative and we're so heartened by the eager and altruistic young people from Vodafone and MCAST.  They've given us a dose of energy and happiness!"
Rosalie, Rachel and Daniel are mega enthusiastic about this initiative and cannot wait for the donations to start coming in.  "Christmas is a time for giving and sharing," they said.  "We've worked exceptionally well with our colleagues and with MCAST students in this production.  Now it's time for the pubic to do its part – a Maltese public that's ever so generous and receptive to the needs of others in the community with difficult plights."
The music video was entirely produced by Year Two students pursuing an Extended Diploma in Creative Media Production at the MCAST Art and Design. Most of the music video was filmed at the MCAST's new state-of-the-art, full HD TV studio in Mosta. A team of 20 MCAST students led by Media Lecturer Keith Abela joined forces with Vodafone employees to produce this music video. Mr Stephen Vella, the Institute's Director said that the Institute fully supports such working tandems in order to give students the opportunity to work together with the private sector and gain hands-on experience in their chosen area of study. "This Christmas initiative is even more special since it will help children in need lead a happier life," he said.
Donations of €4.66 towards this initiative can be made on SMS numbers 5061 8092.
For more information about the Vodafone Foundation and MCAST's Institute of Art & Design log on to www.vodafone.com.mt and www.mcast.edu.mt.