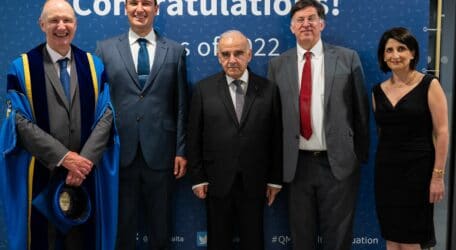 Left to right – The Principal of Queen Mary Colin Bailey; Minister for Education, Sport, Youth, Research and Innovation​ Hon. Clifton Grima; His Excellency George Vella, President of Malta; Professor Anthony Warrens, Dean for Education QMUL and the President of Steward Health Care Malta, Dr Nadine Delicata.

Steward Health Care Malta is proud to have played an important role towards the achievements of 19 graduates who were recently conferred their degree in Bachelor of Medicine, Bachelor of Surgery (MBBS) during the first ever graduation ceremony held for students attending the Queen Mary University of London's (QMUL) Malta Campus. The ceremony took place at the historic Cittadella in Gozo.
The Queen Mary Malta Campus, known also as Barts Medical School, is the first medical school located in Gozo specifically within the precincts of Steward's Gozo General Hospital in Victoria. The construction of the Medical School was managed by Steward Health Care Malta over 18 months, and completed in October 2019. It features state-of-the-art medical educational facilities including also an Anatomy Centre.
The goal of the school is to support the Maltese Government's activities in upgrading healthcare across the Maltese islands, particularly in Gozo. The Barts campus was part of a holistic project to update the health care facilities on the island with wider benefits for the island's economy. In addition, the setting up of this academic institution firmly placed Gozo on the global map in terms of medical education, research and innovation.
"We congratulate the QMUL and the class of 2022, which were the first intake of the Barts Medical School, for this important milestone and we are honoured to have been part of this incredible journey. We consider QMUL students and staff to be an integral part of the Gozo hospital and wider community. We are very happy with the ongoing and fruitful collaboration with the QMUL and look forward to more graduation celebrations in the coming years," said Dr Nadine Delicata, President of Steward Health Care Malta, who attended the graduation ceremony.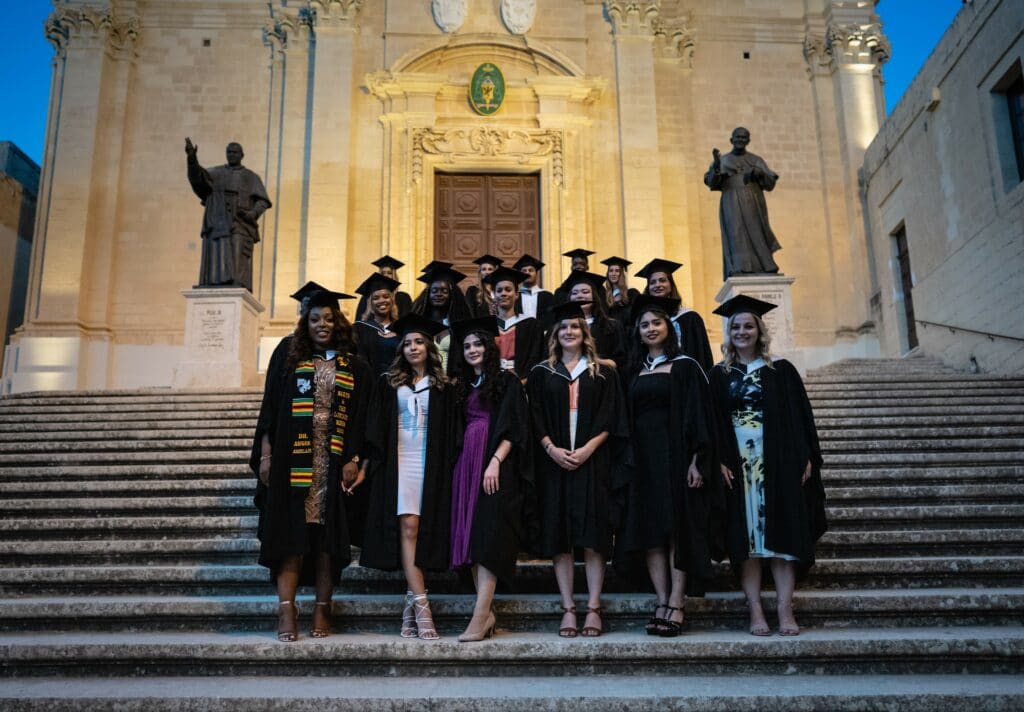 QMUL offers its internationally renowned five-year MBBS programme to students from all over the world. A total of 237 students from 51 different countries, including Malta, attend the course. The 19 students who graduated this year with MBBS degrees represented 12 countries including the UK, Belgium, Cayman Islands, Uganda, Philippines, Austria, Malta, Australia, Indonesia, Malaysia, Ireland and Canada.
Over the past years, the students and the staff of the Queen Mary Malta Campus have taken part in various community initiatives and outreaches in Gozo, such as supporting the Department of Health in providing vaccinations from the COVID-19 vaccine centre in Victoria, Gozo. In addition the Medical School hosted a "Mental Wellbeing in COVID Times" conference, in partnership with the Mental Health Association Gozo, as well as provided additional space to Gozo General Hospital to enable the hospital to provide safer care while catering for COVID-19 patients