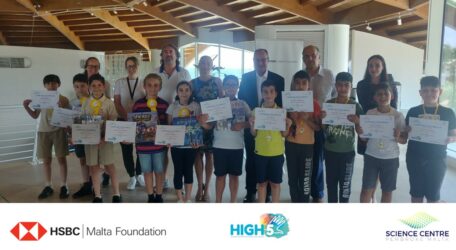 The HSBC Malta Foundation sponsored the winners' prizes for the High 5 Junior Mathematicians Challenge 2022. The initiative is organised by the Science Centre Pembroke and aims to challenge talented mathematics learners in primary school years 5 and 6 and strengthen pupils' science, technology, engineering and mathematics (STEM) skills.
A total of 65 students from different schools across Malta and Gozo participated in a series of workshops and collaboration-based activities organised in the STEM Camps, sponsored by the HSBC Malta Foundation, at the Malta National Aquarium in Qawra.
The winners of the challenge are: Matthew Fenech from Maria Regina College Naxxar Primary; Zakariah Licari from De La Salle College; Nathan Tedesco from St Nicholas College Attard Primary; Gianluca Shead Farrugia from St Benedict College Safi Primary, and Rakela Debono from the St Ignatius College Siġġiewi Primary.
Furthermore, six other students have been presented medals and certificates for their outstanding work: Dave Caruana from Archbishop's Seminary; Luigi Borg from St. Paul's Missionary College; Wayne Muscat from Theresa Nuzzo School; Kaarthik Santosh and Kaushik Santosh from St Thomas More College Marsaskala St Joachim Primary, and Jake Bonnici from De La Salle College.
Michel Cordina, Executive Director and Head of Business Development at HSBC Bank Malta, said: "STEM subjects have never been more important than today when emerging technologies, such as artificial intelligence and machine learning, are driving digital transformation across all economic sectors. The HSBC Malta Foundation, therefore, is honoured to have supported the High 5 initiative for another year. This is part of an ongoing effort to support STEM education which also includes our sponsorship of the Science Safari, the Hunt, the HSBC STEM Challenge, the Malta Junior Science Olympiad, and the MatemaTikka Award Scheme."
Desiree Scicluna Bugeja, Assistant Director at the Ministry for Education, said: "The talented participants of this initiative have faced a handful of challenges via workshops and tasks to probe their problem-solving, analytical and critical thinking skills. The strong collaboration between the HSBC Malta Foundation and the Pembroke Science Centre over several years is pivotal to further strengthen opportunities for gifted students".
The High 5 Junior Mathematics Challenge offers talented students the opportunity to probe their problem-solving, analytical and critical thinking skills.
Winners and awardees of the seventh High 5 Junior Mathematics Challenge 2022 receive their accolades at the Malta National Aquarium in Qawra.