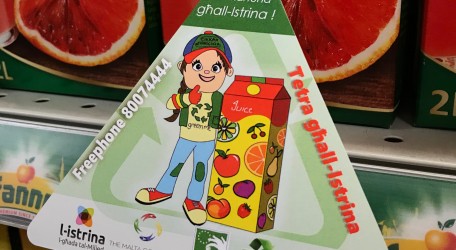 Nectar Limited has endorsed Green MT's 'Tetra ghall-Istrina' campaign. The environmental initiative is part of the European Week for Waste Reduction taking place across the EU member states between 18th and 26th November 2017. The initiative aims to collect milk and juice cartons of any brand or size and divert them from landfilling.
The campaign aims to raise funds for the Malta Community Chest Fund Foundation. Nectar Ltd has affixed specially-designed wobblers at over 900 shops, whereby Nectar used its extensive distribution network to spread more public awareness of this campaign.
Established in 1991, Nectar has one of the largest sales forces in Malta with 50 sales personnel, representing over 50 renowned brands spread over six sales divisions. Its extensive portfolio of food, beverage and confectionery products is widely stocked in all leading supermarkets, hotels, restaurants, bars, canteens, groceries, pharmacies and health shops, apart from other outlets.
In recent years, ISO-certified Nectar won awards for equality, learning and development, performance orientation, technology, job satisfaction, and health and safety.
The public is encouraged to dispose of recycling Tetra Pak cartons of milk and juices at all the locations listed on the Green MT Facebook Page. All empty Tetra Pak cartons collected during the campaign, which runs up until the week of l-istrina, will be exchanged for a monetary donation to the Malta Community Chest Fund. After the campaign, the public is encouraged to dispose of these cartons in recycling bags for the weekly collection.
The campaign was launched on 30th October by H.E. the President of Malta Marie-Louise Coleiro Preca at San Anton Palace and is endorsed by the Malta Community Chest Fund Foundation. A good number of local councils, schools and catering establishments are already on board with the scheme which is reaching collections of 150 large grey or green bags filled with milk and carton juices daily.
Further information can be obtained by phoning Green MT on free phone 80074444, or on their Facebook page.
Photocaption: The campaign wobblers urging consumers to return their empty cartons of juice and milk