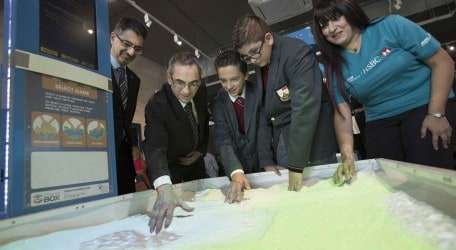 Malta is now part of the international 'Water Explorer' programme, delivered locally by Nature Trust – FEE Malta through its Eco-Schools (EkoSkola) programme and supported by the HSBC Water Programme. Students from 24 schools were present for the launch held at the new Għajn – Water Conservation Awareness Centre in Rabat.
Water Explorer is a fun, action-oriented, international online programme that inspires thousands of students to become water 'Explorers' and lead action in their school communities on water issues.
Managed by NGO Global Action Plan, the programme is being followed in France, Germany, Switzerland, Italy, Spain, Turkey, Poland, South Africa and the UK. Participating schools are encouraged to link up with schools from other countries and share their ideas and top water-saving tips. The online resources are aligned to the United Nation's SDGs (Sustainable Development Goals) and ideal for 8-14 year olds but can freely be used by younger and older students.
During the Malta launch, students also participated in hands-on interactive workshop sessions. Attendees were addressed by Minister for Energy and Water Management Joe Mizzi, Nature Trust – FEE Malta CEO Vincent Attard, and HSBC Malta Chairman Sonny Portelli.
There are great prizes to be won including a prize for the best school of the month and the chance for representatives from the top school team in Malta to showcase their efforts during a celebration event overseas in 2018. Other incentives and related events will be taking place in Malta during the year. Furthermore, HSBC Malta will also be giving extra support funding to the best proposals from participating schools.
The programme is being supported by the Għajn – Water Conservation Awareness Centre.