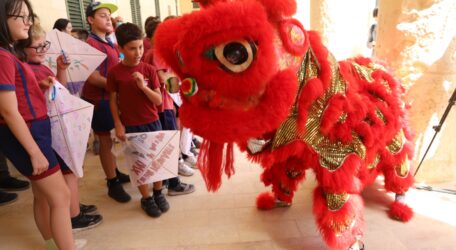 The Esplora Science Centre was bustling with activity today as Year 6 students got a break from the classroom to attend a workshop on making kites.
The kite festival is organised each year to encourage schoolchildren to celebrate diversity, unity and different cultures through the building of kites.  
A collaboration between the Malta Foundation for the Wellbeing of Society, the China Cultural Centre, the Education Ministry, and Esplora, today's event culminated with a colourful Lion Dance performance.
The event, being spread over three days, was attended by President Emeritus and MFWS chair Marie-Louise Coleiro Preca, Educational Services Directorate director general Emile Vassallo and the Chinese Ambassador.