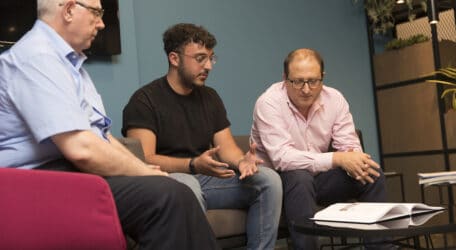 Melita Limited has aided an MSc in Telecommunications Engineering student in completing his thesis on Mobile Augmented Reality (MAR). The research, by Max Bonavia, analysed how 5G mobile telecommunications could be combined with Augmented Reality to help drivers navigate better and more safely through their surroundings. The thesis focused on exploiting the high throughput and Ultra-Reliable Low Latency Communications (URLLC) provided by 5G to deliver video from the road to the MAR device in real-time so that it can be overlaid over the view seen through the vehicle's windshield.
Simon Montanaro, Chief Technology Officer at Melita Limited, said, "The arrival of 5G opens a new frontier for the development of applications that can improve our lives. Thanks to Melita's nationwide high-speed connectivity, Malta now has the infrastructure in place to become a leading centre for the development of new ideas and it's great to see students like Max already researching ways in which we can harness the potential of 5G. Melita will continue to support Malta-based researchers and developers in exploring new, creative technology solutions."
Photocaption: (from left) Prof. Ing. Saviour Zammit – Thesis Supervisor, Max Bonavia, and Simon Montanario, Chief Technology Officer at Melita Limited.