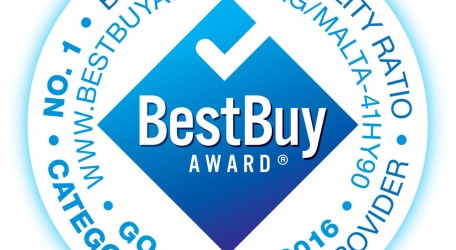 GO has won a Best Buy Award for offering the best value for money digital television service for both local and international tv channels in Malta. The award was based on an independent survey on a representative sample of the Maltese population carried out by Swiss organisation Icertias.
ICERTIAS (International Certification Association), measures consumers' experience and satisfaction regarding the price-quality ratio of marketed products and services. The questions in the Best Buy Award research were open-ended and results therefore represent the personal experience and perception of consumers.
Kurt Camilleri, Chief Commercial Officer at GO, said, "There has never been a better time to join Malta's best TV provider. GO continues to invest in both content and technology to offer the best in sports, movies and TV drama. At the same time, we deliver a range of unique interactive services including TV Anywhere which gives customers the opportunity to watch their favourite programmes from their mobile devices. Through our innovative Limitless Home Pack bundles, GO is also able to offer all of this at a reasonable price."
GO's interactive TV service, offering record, pause, rewind, catch-up and restart services, is available to existing GO Home Pack customers for an additional €5 monthly. TV packages for new GO customers start from €21.99 a month.
More information is available at https://www.go.com.mt/personal/tv.
For more information on the Best Buy Award, please, visit http://www.bestbuyaward.org