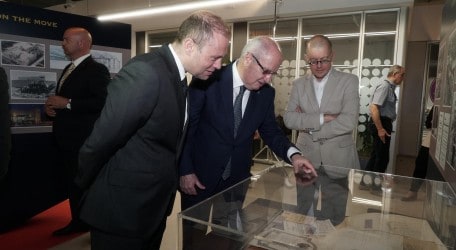 Farsons is focused on the future, committed to innovation, and equally proud of its roots, heritage and entrepreneurial spirit which continue to guide the Group in its endeavours. Farsons Group is well placed to pursue its strategic objectives as it leverages the full potential of its significant investments.
This was stated by the Chairman of Farsons Group Mr Louis A Farrugia during a visit to Farsons Brewery by the Prime Minister Dr Joseph Muscat for the opening of the exhibition entitled "90 years of Brewing in Malta".  The Prime Minister's delegation included the Minister for the Environment, Sustainable Development and Climate Change Dr José Herrera and the Parliamentary Secretary for Planning and the Property Market Chris Agius.
Ever since Farsons set up its original brewery in Ħamrun in 1928, the history of brewing in Malta has been synonymous with Farsons and its brands. The launch of the first locally-brewed beer, Farsons Pale Ale, on 19th April 1928, marked a new chapter in the history of Maltese industry. 
Earlier on, accompanied by Mr Farrugia and Farsons Group Chief Executive Mr Norman Aquilina, the Prime Minister toured the Brewery and viewed the latest of a series of investments that have been recently commissioned. These include a state-of-the-art beer and soft drinks plant for filling 30 litre kegs at a speed of 85 kegs per hour, and a water line capable of filling 18.9 litre containers at a rate of 300 per hour.  Both plants make use of robot handling technology while eliminating manual handling of containers of kegs. Dr Muscat also viewed the Logistics Centre, which has been extended and better equipped to handle all warehousing and distribution requirements.
Farsons invested just over €100 million in new facilities, over the last 10 years, to ensure that the company remains competitive, and to grow its business in Malta and other markets. These investments will result in more competitive operating costs, top quality and diversified innovative products, and a reduction in the use of both energy and water.
Working with finest quality ingredients, Farsons has created and nurtured a range of quality beers that not only are an inextricable part of Malta's way of life but they continue to be appreciated, and awarded, internationally.  "While we are grateful for the strong support our beers continue to receive, we also appreciate the vital role played by our brewers, employees and suppliers: without their shared sense of purpose and on-going dedication, such achievements would not be possible," said Farsons Chairman.
The "90 years of Brewing in Malta" exhibition, inaugurated by the Prime Minister, portrays the remarkable past of Farsons and its eagerness to embrace the future, with a continued commitment to develop the full potential of Malta's finest brews in the exciting years ahead.