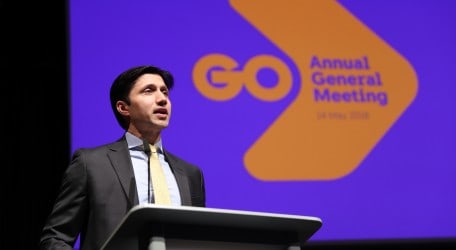 GO plc today held its twentieth AGM, during which the Company's senior management team provided shareholders with a detailed review of the Company's performance during 2017. The meeting also approved a net dividend of €0.13 per share, an increase of 18.2 per cent on 2016, and amounting to a net payment of €13.1 million to shareholders.
Opening the meeting, GO Chairman, Mr Mohamed Fadhel Kraiem, highlighted some the Group's key achievements in 2017, a year in which earnings before interest, tax, depreciation and amortisation (EBITDA) grew 6.5 per cent to €65.6 million from €61.6 million in 2016.
Mr Kraiem said, "Strong results do not come by accident but because the leadership at GO and all the staff work hard to create the right strategy, make the right investments, and deliver the products and services our clients want and need. Our focus on infrastructure, particularly mobile and fibre, on TV content, and on effective cost management, have continued to deliver an improved performance. Additionally, GO's investment strategy in recent years, which has brought BMIT, Kinetix and Cypriot operator Cablenet into the Group portfolio, has also made a significant contribution to our profitability and cash generation."
GO's Chief Executive Officer, Mr Nikhil Patil and the Company's Chief Financial Officer, Mr Reuben Zammit, then provided shareholders with a detailed review of operational activity and financial performance. The review further highlighted GO's robust performance in 2017, during which Group operating profit reached €29.5 million, an increase of 12.2 per cent on the €26.3 million recorded in 2016. This was underpinned by growth in revenues, which in 2017 amounted to €166.3 million compared with €157.0 million in 2016. In addition the 530,000 and more, customer connections in Malta, the GO Group is now also servicing a further 154,000 customer connections in Cyprus, through Cablenet.
Mr Patil said, "In line with our long-term strategy, GO is now more diversified, both in terms of the sectors it serves, as well as the markets it operates in. Whatever the sector or market however, we believe that customer experience is key and this shall be an important focus going forward. We have actively listened to our customers, and analysed their feedback to better understand their needs. Most importantly, we are constantly striving to improve our services at every touchpoint. One major component of customer satisfaction is the infrastructure on which GO's product development is based. We have made significant investments in this regard and have committed a further €100 million investment over the next five years. This investment is already delivering genuine benefits for our customers and is allowing GO to deliver the best mobile, internet, and TV service in the country.'