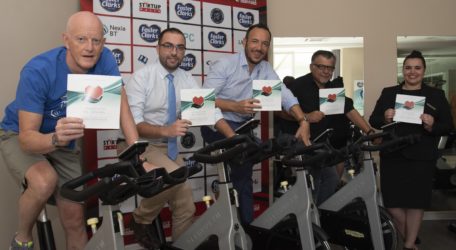 Pictured above: Alan Curry, Keith Laferla from Laferla Insurance, Oliver Said from Nexia BT, James Muscat and Kimberly Agius Cutajar from Hilltop Gardens
Platinum sponsors supporting Foster Clark LifeCycle Challenge 2018 have increased organ donor awareness among the respective employees in support of Organ Donation Week. This is being  organised by LifeCycle (Malta) Foundation in collaboration with Transplant Support Group during 3rd to 9th September 2018.
LifeCycle Challenge's platinum sponsors include Hilltop Gardens, Laferla Insurance, Nexia BT, Capital Premier, Alf Mizzi Foundation, Positive Vibrations Studio, StartUp Malta, SR Technics, BPC, Tri-Mer Services and Mrs Anne Carabott through St Michael School and St Michael's Foundation. 
LifeCycle (Malta) Foundation Founder Alan Curry said: "We are encouraging our followers to register their organ donation decision and to share their decision with their families.  We thank all our sponsors for their generous support in believing in our cause to help renal patients. And we thank our platinum sponsors for joining us in our drive to further generate organ donor awareness and registrations."
During the Organ Donation Week, LifeCycle (Malta) Foundation through Chic Physique Gym Studio and Sanya Wellness at Hilltop Gardens in Naxxar is making available organ donation flyers and those who wish to register can sign their name.  
Transplant Support Group President James Muscat said: "By signing up, we can make a difference to many people waiting for lifesaving transplants. It can mean saving a life from death. An organ transplant can enable a person to resume an active life, whether at work, at home and in the community."
One donor can transform the lives of up to eight persons and significantly improve the lives of many more.  In Malta there are around 100 persons of any age on the organ transplant waiting lists, of which 80 are waiting for a kidney transplant, and the number increases every year.
Persons over the age of 16 years can register their wish to donate their organs after death or specify which organs they would like to donate. There is no age limit and even those that may have a medical condition can also register. One can also sign up as organ donor and register online www.organdonation.gov.mt
LifeCycle (Malta) Foundation actively supports renal patients and their families through their annual LifeCycle Challenge.   For donations and information about LifeCycle Foundation and Foster Clark LifeCycle Challenge 2018, please visit www.lifecyclechallenge.com