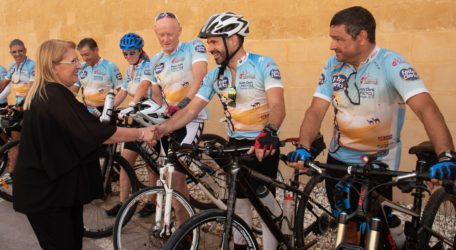 Twenty-five cyclists from Foster Clark LifeCycle Challenge cycled for six hours around Malta as part of their Sunday very early morning training for the forthcoming challenge. They stopped briefly at San Anton Palace and they were greeted by The President of Malta, H.E. Marie-Louise Coleiro Preca.
The President welcomed Alan Curry, Founder of LifeCycle (Malta) Foundation, all the cyclists and the support team who will be departing for Dubai on 28th September for their gruelling LifeCycle Challenge 2018. As Alan Curry thanked the President for receiving them at the Palace and briefly commented on this year's Foster Clark LifeCycle Challenge, the President Marie-Louise Coleiro Preca praised the LifeCyclists for their courageous and noble deed in support of persons with kidney disease and kidney failure, further praising them for embracing the value of solidarity, which distinguishes the people of Malta and Gozo.
Mr John Schembri, Foster Clark's Head of Operations was also present.
The funds being raised will go towards the needs and care of kidney disease patients. Apart from life-saving equipment and improved facilities, LifeCycle sponsors the Twilight Shift Van to transport patients to and from Mater Dei Hospital for their evening dialysis, as well as the software matching programme called "Traccia" which determines the best recipient for a kidney donation. LifeCycle Foundation also offers a part sponsorship of the annual trip to Lourdes for patients and accompanying medical staff. 
Foster Clark LifeCycle Challenge 2018 aims to raise the substantial sum of €150,000 to sustain its current and new projects for 2018-2019.
LifeCycle Challenge is also supported by StartUp Malta, LaFerla, NexiaBT, BPC, Positive VibrationsTattoo Studio Malta, Hilltop Gardens, SR Technics, St Michael School and St Michael Foundation, Tri-Mer Services Ltd, The Alfred Mizzi Foundation, GIG, P Cutajar, Tier1FX, Premier Capital, Air Malta, API Technologies Corp., Attard Brothers Group of Companies, Corinthia, M.Demajo Group, de Rohan, Medelec, OilTanking, KBC Euro, Salini Resort, Flobour Malta, Bioness, Collis Williams, Credorax, Dorado Games, EF Management Consultants, EY, Gollcher, GTG Advocates, J. Lautier, Crimsonwing, M.A.&A., MIDI, Maypole, Omni Freight Services, P2M, RS2, Prime, Satariano, Striped Sox, 1st Cospicua Scout Group, Carmelo Delia, Streetcom, Vodafone Malta Foundation, EFQ Management Consultants, and Techwood International amongst many other businesses and private individuals.   
For donations and information about LifeCycle Foundation and Foster Clark LifeCycle Challenge 2018, please visit www.lifecyclechallenge.com