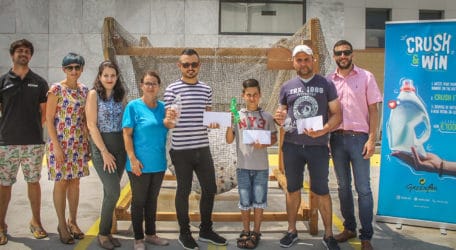 Over 21,000 plastic bottles and 2,000 caps were collected through a fun initiative by recycling cooperative GreenPak and environmental NGO Zibel at the Farsons Beer Festival.
With the support of the Farsons Foundation, GreenPak and Zibel came up with PlastiKAXXA – whereby patrons at the Beer Festival were able to dispose of their crushed plastic bottles and cups in seven containers made from re-used nets and wood that were dotted around the site.
A daily prize of €50 was awarded by GreenPak to lucky PlastiKAXXA participants –who scribbled their telephone number on the bottles – on each day of the 10-day BeerFestival, in an extension of the cooperative's popular Crush & Win campaign whichencourages the public to crush recyclable items before disposing of them responsibly.
Meanwhile, smaller containers were installed for the disposal of plastic caps that werecollected for GreenPak's Nirricikla Ghall Istrina Campaign, which last year raised over€20,000 for the Malta Community Chest Fund Foundation's annual charity appeal.
GreenPak CEO Mario Schembri said: "PlastiKAXXA goes to show that people can stillrecycle responsibly while having fun.
"A big thank you goes to all the participants and to our collaborators who made this initiative possible and we look forward to even better results next year."