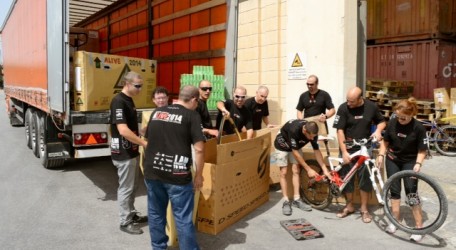 More than 40 bikes being used for the Malta Airport – ALIVE 2014 Cycling Challenge for Cancer have been loaded on Express Trailer shipping container to be shipped to Prague in time for the start of the 1000 kilometre challenge on 9th July.
Training solidly for the past 15 weeks, the cyclists are for the second year raising substantial funds for a specialised research programme in breast cancer at the University of Malta to be facilitated through the University's Research Trust (RIDT).
Held in collaboration with ALIVE Charity Foundation, Action for Breast Cancer Foundation and Europa Donna Malta, the second edition of the Malta Airport – ALIVE 2014 Cycling Challenge for Cancer will see 45 male and female persons cycling from Prague to Vienna to Bratislava to Budapest and finally to Belgrade, from 9th to 18th July 2014.
ALIVE 2014 is sponsored by Malta International Airport and supported by Sky Spirits Fitness Lounge, Impressions Print, Signs and Displays, Go & Fun, Debenhams, Gollcher Group, Pizza Petrus, Garmin, Express Group, KPMG and many others.
Donations to ALIVE 2014 can be made online www.alivecharity.com or via SMS on 50617364 for a donation of €2.33; 50618081 for a donation of €4.66; 50618913 for a donation of €6.99; and 50619208 for a donation of €11.65, or via bank transfer: Account No – BOV 4002149804-6 Alive Charity Foundation – Bank's Bic – VALLMTMT – IBAN- MT85 VALL 2201 3000 0000 4002 1498 046.