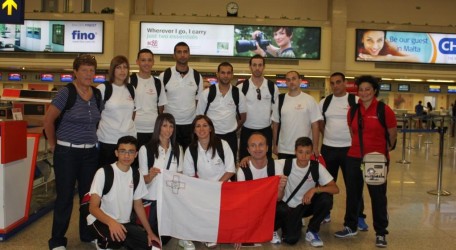 The Vodafone Malta Foundation is once again supporting the Maltese Special Olympics Team, who will be participating for the first time at the European Unified Volleyball Tournament in Istanbul Turkey this June. The unified team will be made up of mainstream players and players from the Special Olympics team.
"We are delighted to once again give our support to the Maltese Special Olympics," said Martin Gregory, Head of HR at Vodafone Malta. "Enabling Maltese athletes to participate alongside other Special Olympics organisations worldwide is an honour and we are sure that the team will achieve success once again this year".
A total of 16 European teams will be participating in the tournament with the Maltese delegation made up of a total of 14 people. Training sessions are held 3 times a week with players training alongside mainstream players. Moreover unified friendly games are organized regularly to give players as much experience as possible.
In 2012, for the first time Special Olympics Malta took part in a volleyball tournament held during the Special Olympics Regional Games in Lombardy, Italy. The competition was a unified one, with teams made up of 4 Special Olympics players and 2 mainstream players. This was the 4th time that Special Olympics Malta participated in these games but it was the very first time that Special Olympics Malta took part in the Volleyball tournament where they placed third and won the bronze medal. The Special Olympics Malta team gave a striking performance in the athletics competitions, bringing home a total of 27 medals.
"Integrating our athletes in society and enabling them to live a meaningful and independent life is a task that we have at heart," said Ms. Anna Calleja, National Director, Special Olympics Malta. "We work very closely with the athletes' families and we constantly strive to bring athletes with and without learning disabilities together by organize events where they can play and compete alongside one another in a fair and formal environment. Our goal is to break down barriers in the community, promoting full inclusion of learning disabled youngsters whilst encouraging social interaction between them and others."
For further information and updates on results visit Special Olympics Malta Facebook page.
20.06.2013
Il-Vodafone Malta Foundation tappoġġja atleti Maltin fil-European Unified Volleyball Tournament
Il-Vodafone Malta Foundation għal darb'oħra qed tappoġġja lit-tim Malti tal-iSpecial Olympics li se jipparteċipa għall-ewwel darba fil-European Unified Volleyball Tournament f'Istanbul fit-Turkija. It-tim huwa magħmul minn plejers magħżula minn timijiet tal-volleyball  kif ukoll minn plejers tat-tim tal-iSpecial Olympics.
"Sodisfatt li għal darb'oħra qed nagħtu l-appoġġ tagħna lit-tim Malti tal-iSpecial Olympics," qal Martin Gregory, Kap tar-Riżorsi Umani ta' Vodafone Malta. "Li nagħtu ċ-ċans lill-atleti Maltin jipparteċipaw flimkien ma' organiżazzjonijiet oħra tal-iSpecial Olympics minn madwar id-dinja hu unur kbir għalina u aħna cċrti li t-tim Malti din is-sena għal darb'oħra se jkollu suċċess."
Total ta' 16-il tim Ewropew se jipparteċipaw f'tournament flimkien mad-delegazzjoni Maltija li hi magħmula minn 14-il persuna. Is-sessjonijiet ta' taħriġ isiru tliet darbiet fil-ġimgħa flimkien ma' plejers oħra. Aktar minn hekk ikunu organizzati regolarment logħob ta' ħbiberija biex jagħtu lill-plejers l-esperjenza meħtieġa.
Fl-2012 it-tim Malti tal-iSpecial Olympics ħa sehem f'tournament tal-volleyball għall-ewwel darba fl-iSpecial Olympics Regional Games fil-Lombardija, l-Italja. Il-kompetizzjoni kienet waħda li tgħaqqad flimkien plejers minn Special Olympics flimkien ma' players ohra. Filfatt kull tim kien magħmul minn erba' plejers tal-iSpecial Olympics u żewġ plejers oħra. Din kienet ir-raba' darba li Special Olympics Malta pparteċipaw f'dawn il-logħob imma kienet l-ewwel darba li ħadu sehem fil-volleyball tournament fejn rebħu midalja tal-bronż. Matul dan il-logħob it-tim tal-iSpecial Olympics Malta taw prestazzjoni impressjonanti fil-kompetizzjonijiet tal-atletika, fejn ġabu lura magħhom 27 midalja.
"L-integrazzjoni tal-atleti tagħna fis-soċjetà hija mportanti għalina għax tgħin lill-atleti jgħixu ħajja sinifikanti u indipendenti," qalet Anna Calleja, id-Direttriċi Nazzjonali tal-iSpecial Olympics Malta. "Aħna naħdmu fil-qrib mal-familji tal-atleti u nagħmlu sforz kbir biex niġbru flimkien atleti b'diżabbilità u atleti oħra ħalli jkunu jistgħu jikkompetu ma' xulxin b'mod ġust u formali. L-għan tagħna hu li nnaqqsu l-ostakoli fil-komunità, nippromwovu l-inklużjoni sħiħa ta' żgħażagħ b'diżabbilità filwaqt li ninkoragixxu l-integrazzjoni soċjali tagħhom."
Għal aktar informazzjoni u aġġornamenti dwar ir-riżultati żur il-paġna Facebook bl-isem ta' Special Olympics Malta.