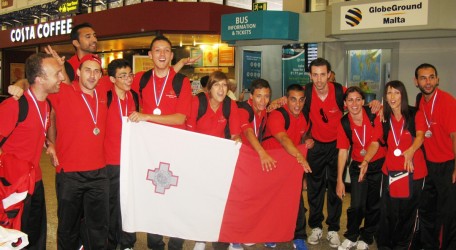 The Special Olympics volleyball team arrived back in Malta with a silver medal won in the 2nd Division. Thanks to this honour the team, qualified for the Special Olympics World Games to be held in Los Angeles, USA in 2015. Special Olympics Malta, supported by the Vodafone Malta Foundation was represented by a delegation of 14 people during the European Unified Volleyball Tournament in Istanbul, Turkey.
"Considering that our volleyball team is fairly new and that this was our first participation in the European tournament, we are very happy with the result and we feel that the whole experience was a great success," said Ms Anna Calleja, National Director of Special Olympics Malta. "We don't like to rush things and we take our time to introduce new sports disciplines to make sure that before competing in international events we achieve the desired level. The mainstream players were also very honoured to have been invited to participate in such an event and although they have been training with our athletes for quite a while, they were surprised with our athletes' level of determination and spirit. We would also like to thank the Vodafone Malta Foundation for their ongoing support and their assistance for all Special Olympics Activities including these games."
On the first day of the European Unified Volleyball Tournament, Malta played 2 games against the Czech Republic and Finland and placed in Group B/2nd division alongside Germany and Azerbaijan. Following that, on the second day, Malta won their game against Germany at 2 sets to 1 and lost at 2 sets to 0 against Azerbaijan with great honour. Malta lost their first set at 23-25, won the second set at 25-23 and lost the last set at 10-15.
"We congratulate all participants for their success," said Martin Gregory, Head of HR at Vodafone Malta. "We are  delighted to partner with Special Olympics Malta again this year to enable our athletes to participate alongside other Special Olympics organisations from across the globe.  We also look forward to similar partnerships in the future."