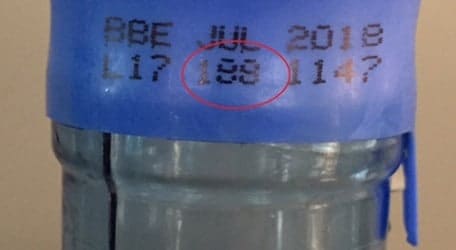 EcoPure Limited is advising that, due to a technical failure in its filling plant, it has transpired that the microbiological integrity of some EcoPure containers might have been compromised. As a precautionary measure, and to ascertain that the water consumed by its esteemed customers is consistently of the highest quality standards, the company has initiated a product recall of its 18.9 litre and 10 litre returnable containers of water which meet the selection criteria specified further below.
Whilst apologising for the inconvenience that such a precautionary measure might cause, the company reassures its esteemed customers that it is focused to resolve this problem in the shortest time possible.
The batch code of each production run printed on the cap of each EcoPure container will be used for identifying containers for collection as shown in the image.
All stock up to batch code 188 as circled in image will be collected and subsequently replaced with fresh stock.
For any information or query regarding the product recall, customers are kindly requested to contact our Helplines on 80074422 or 23814411 between 8am and 7pm.