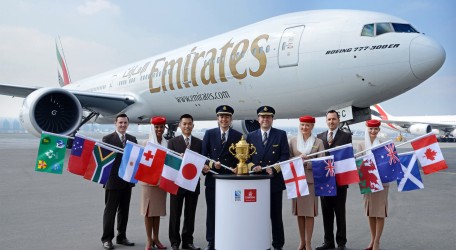 First Worldwide Partner to sign for both England and Japan tournaments
Emirates, a global connector of people and places, and Rugby World Cup Limited (RWCL), announced a sponsorship agreement for Rugby World Cup 2015 and 2019 which will be held in England and Japan respectively.
Emirates also extended its sponsorship of the International Rugby Board's (IRB) match officials until the end of 2019, which includes for the first time in Rugby World Cup (RWC) history the rights to brand the shirts of match officials on the field of play during the tournament.
"Rugby is a core part of Emirates' sports sponsorship portfolio. We've supported rugby around the world for more than 20 years, and we are glad to have helped connect hundreds of thousands of passionate rugby fans from around the globe through these events," said Tim Clark, President of Emirates Airline.
Rugby is an international sport that reaches an international audience, many of whom are Emirates customers. The 2011 tournament in New Zealand was the most widely-broadcast Rugby World Cup ever, and we anticipate the next two Rugby World Cups will only be more spectacular. For Emirates, it was a natural decision to be the first Worldwide Partner of both the England and Japan tournaments, and as official airline we look forward to flying fans to experience the event for themselves," said Mr Clark.
In terms of the agreement, Emirates will be an official Worldwide Partner of Rugby World Cup 2015 and 2019, as well as the official airline. The familiar 'Fly Emirates' logo will adorn the shirts of match officials, and Emirates will have its branding displayed around all stadiums in England and Japan where matches will be played during the six-week long tournaments.
RWC 2015 kicks off on 18 September at Twickenham Stadium in London; with hosts England taking on a yet-to-be decided qualifying national team from the Oceana 1 region. So far 13 countries have qualified for the tournament, with the remaining seven teams to make up the final 20 to be decided through qualifying matches over the coming months.
Emirates operates daily scheduled flights from Malta to Dubai. On Mondays, Wednesdays, Thursdays and Saturdays Emirates flies via Larnaka, Cyprus, while on Sundays, Tuesdays, and Fridays, the airline operates direct flights from Dubai to Malta and return flights fly via Tripoli.