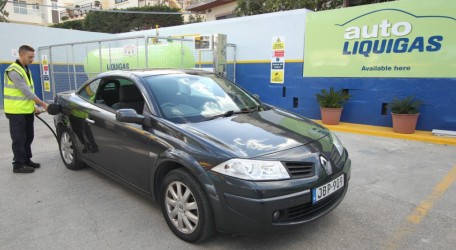 Liquigas has kept and will continue to keep its promise that the price of AutoLiquigas remains 50% that of petrol. On an individual level, users are constantly saving up to 50% on fuel costs for using their converted cars. This benefit, together with the incentive scheme launched by government last year and extended till December 2014, has already led to the conversion of more than 450 car conversions since the launch of AutoLiquigas in Malta on 22nd May 2012.
This was announced by Liquigas Malta CEO, Roberto Capelluto, during the launch of the third AutoLiquigas fuelling station today at Wembley Service Station at St Andrews. "The increase in volumes, both the number of conversion requests and the authorized conversion kits installers are sending a clear message from the Maltese market: Maltese consumers are becoming increasingly aware of the benefits of this source of alternative fuel."
The Minister for Sustainable Development, the Environment and Climate Change Mr Leo Brincat, the Minister for Energy and the Conservation of Water Dr Konrad Mizzi, company representatives Mr Paul Agius Delicata, Mr Stephen Muscat, Mr Jesmar Mifsud and Mr Noel DeBattista, and the owner of the station, Mr Matthew Bonello, were present for the launch of this autogas station, conveniently located on St Andrews Road to serve cars commuting on this main road artery in Malta.
"Since the launch of AutoLiquigas twenty months ago, there has been already a reduction of approximately 120 tons of CO2 per annum, together with significant reductions in NOx and particulate matter. These reductions are set to increase in line with the increase in the number of cars converted to use AutoLiquigas," explained Paul Agius Delicata.
"It is clear that cars are the main producers of air pollution in Malta. A reduction of such pollutants through the increased use of AutoLiquigas has a direct positive benefit on public health and well being, leading to a lesser necessity in public health expenditure to cure diseases resulting from air pollution. In turn, this public money can be directed towards other necessary and more pressing public health purposes," said Mr Agius Delicata.
The first AutoLiquigas fuelling station was opened in 2012 at MaltaInternationalAirport service station, while the second one was launched in June 2013 at Għajn Buqana, limits of Rabat.  Liquigas Malta is already working towards installing an AutoLiquigas dispenser in Gozo.
AutoLiquigas is much cheaper than petrol or diesel. With the current selling price of AutoLiquigas in Malta at €0.72 per litre, it is half the price of petrol (currently at €1.44), and 53% cheaper than diesel (currently at €1.36). Car conversions are particularly cost effective for those car owners who use their vehicles daily.
"We believe that the positive response from the market will increase in a natural way as more drivers realise the cost benefits of autogas and switch over to AutoLiquigas. Liquigas Malta encourages public policy makers to increase support for the use of autogas as a fuel substitute through fiscal incentives," said Mr Capelluto.
"The financial incentives in this regard are, in effect, an investment not only in cleaner air, but they will go a long way towards improved health and well-being of Maltese citizens," said Mr Capelluto.
In this regard, Mr Capelluto invited the Government to give a strong example by converting to autogas the public transport including buses, taxis, ambulances, as well as the vehicles used by government. In Europe, cities like London, Valladolid (110 buses using LPG), Vienna (550 buses using LPG for the past 15 years), Copenhagen (180 buses using LPG), Madrid, Brussels (the Municipality's car fleet) all make use of autogas, while in Tokyo 250,000 taxis are obliged to run on autogas. Liquigas is prepared to collaborate with the Authorities to make Malta another example of clean fuel user, starting from its public transportation.
Vehicle LPG conversions are being carried out by four authorised autogas installers. LPG conversion results in a dual-fuel car – that is a car that can run on either LPG or petrol at the flick of a switch, even while driving.  A switching device will be fitted on the dashboard to allow the driver to select between petrol and LPG. The cost of an LPG conversion is between €700 and €1,200, depending on the vehicle being converted.
However, the initial cost for conversion can be recouped via lower running costs, as one can save up to 50% on fuel costs. As LPG is much cleaner fuel, there is less wear and tear on the car's engine and its life will be prolonged.Considering the volatile fuel prices and concerns over supply, air quality, climate change and the ongoing global economic crisis, Malta – like other European countries – needs to make optimum use of available energy resources. AutoLiquigas will ease Malta's transition to a low-carbon economy and will be making a meaningful contribution to the EU's efforts to reduce CO2 by 20% by 2020.