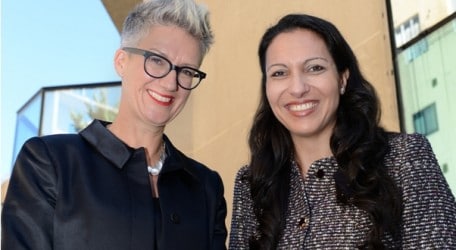 Pictured above: Argus Group CEO Alison Hill with Fogg Insurance CEO Dr Vanessa Borg
Dr Vanessa Borg has been appointed Chief Executive at Fogg Insurance. Dr Borg takes the helm of one of Malta's leading insurance agencies, which is also part of the international financial services organisation The Argus Group. Dr Borg   brings with her proven international expertise in leadership, organisational development and business planning skills.
Fogg Insurance provides a wide range of insurance services in Malta including; commercial insurance which is tailor made to suit the needs of individual companies, liability insurance, marine, motor and home insurance. In addition, as part of Argus Insurance Company (Europe) Limited, Fogg also benefits from the global expertise of The Argus Group, in terms of  financial investment product development and nurturing people's talent.
Alison Hill, CEO of the Argus Group said, "Vanessa has been one of our key advisers in Malta for a number of years, helping us to develop Fogg's strategic and organisational goals. We're delighted that we are now taking our relationship to a new level during what will be an exciting period of development for our business. The Argus Group  recognises the future growth opportunities in Malta and we believe we can leverage not only our strengths in the home and commercial insurance product lines but also, going forward, in new lines of insurance that place us closer to our customers. "
Dr Borg said, "Fogg Insurance is, undoubtedly, a well established business in Malta and I am relishing the opportunity to take it to the next level. We are confident that, closely supported by The Argus Group, Fogg will have a number of unique propositions to bring to the market, helping us to build the business further whilst better serving our varied range of customers."
In addition to her role at Fogg Insurance, Dr Borg will continue to be a Director at Acumen, a leading strategic business, executive development and human resource management consultancy.
Dr Borg has attained a Doctorate in Business Administration from Maastricht School of Management. She also previously held senior management roles at Corinthia Hotels International and currently chairs her company Consultancy & Training Acumen Centre Ltd. Dr Borg has helped companies to deliver organisational excellence in numerous countries including; Malta, Russia, the Czech Republic, Hungary, Libya, Belgium, Portugal, Tunisia and Turkey.